Starting out from nothing? Here are five (5) business career opportunity for you this 2018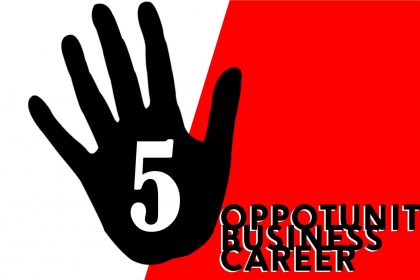 These past years have opened tunnels of alternatives for those without job, thanks to technology advancement, creativity appreciation and more. It's not gonna end in year 2018, by far this year will continue to open more tunnels of opportunity for enthusiasts, looking to start up a career, take up new challenge, increase earnings and or open alternative income source.
What now, my five projected businesses and career opportunity for you in year 2018 are here:
Digital skills and Internet opportunity
Yes this should come first on my list, being something I also do with proofs and potentials. I understand some people do baulk at the mention of anything technology or digital, and wouldn't hesitate to tell you "I'm not tech savvy" bla bla and bla. Whatever that is saying, the reality today is that diverse alternative now exist to internet business, as against those days when you must be highly techy. As it stands now, you necessarily don't have to be savvy before unlocking the many wealth that lies on the internet, but ideas and values now rule supreme and could be what you'd need to invest to cash profits.
Internet opportunity is vast. You could choose to go for the more rigorous skills on platform development or management, or choose to go strategy, marketing or so. Just understand platform goes beyond web (design), but includes social media, search engine, email list building, then management in turn. But then, these are the skills you'd easily pick simultaneously and get to horn, or specialize in one area of interest to you, more so for quality delivery sake.
Then also is affiliate marketing and referral. This involves marketing a product(s) or services for others, with an expected cut / commission after conversion. By far, many smart internet marketers doesn't really have real product or retail on site, but making buzz about exciting offers they've got and making returns for successful sales
It could be opening a web page / ecommerce site / social media handle through which you make buzz about other people's products, even sponsoring through paid ad to reach more people, and putting the right strategy in place to get to the right target and get great conversion; all which addup to cut (profit) for you after sales.
Familair stores like Jumia, jiji and Konga very much encourage affiliate marketing / classified ad posting and sales, and each month, users are making absolute income out of these different platforms.
The other part of internet marketing is selling yourself or character and personality you believe people could find appealing. We've seen a number of notable personalities sprung up fame and relevance out of the blue by being rampant on the pages of social media. Howbeit in all thy doing, avoid gaining fame on a cheap platform of controversy, but well, your choice.
Creative content creation, development / Graphics
Now you can't easily predict what I'd say here so wait for it. Content creation albeit believed as to written is not but diverse. My own understanding about content is wide, but includes written, graphics, video and anything media you can think out. Content writers / creators / developer have become one of the most sought-after in recent time. Many big organization, B2B and SMEs are on their heels with fair package and flexible working conditions for potential branding content and sales copy developers and more. From company press release to online engagement, today businesses are in competition for the good guys (in content), 'cause they don't want to be by their contemporaries.
By far the graphics part is becoming the trendiest with seeming high rate by which people engage with photography, designs and animation.
2018 could be just the right time to start learning graphics design with with tools such as Photoshop and Corel Draw including Adobe InDesign and Illustrator. Video creators / enthusiast / editors could go for Adobe Premiere Elements 9, Avid Studio Music Creation Systems, Corel Studio Videostudio, Corel Digital Studio, Cyberlink PowerDirector, Nero Multimedia Suite 10 and or Roxio Creator. Or you could choose motion graphic with tools such as Maxon Cinema 4D, Autodesk 3ds Max and Maya, NewTek Lightwave, e-on Vue Infinite and Blender. It could be photography, albeit a standard camera could be costly (for a startup), but some guys are somehow doing great even with phone camera by taking shot from great angles ad or/ settings (combined) with grade A photo editing with tools like photoshop. It could be art drawing; either painting or digital. And well, video concept development or acting. Platforms such as YouTube, Instagram and more have been opening a neutral medium for creative video content creators looking to find expression and make sense. We've seen video creators going viral via these mentioned platforms.
Maybe it's time to think crazy, learn weird, come out straight and hit us. We are your market, here and waiting. We will get you paid and famous.
Artificial intelligence
You might not find this interesting, so you could skip this at once. Yea, AI is mainly for the techy guys. Over these past months, our world has been shifting to the side of smarter technology with rise in the cause for artificial intelligence. If you've read this long, I should assume you may be familiar or fan to our digital industry and probably AI, but then you shouldn't just stop at being familiar or famzing, AI could be the next big cause you can also join to shake our world.
Being familiar with software like web, app and other digital application is a privilege indeed, and it could be the right time you seek out of the country to pick up AI skills. It's yet uncertain you could learn AI efficiently neither in country like Nigeria nor anywhere in Africa. But there are some digital channels online from which you'd possibly take some basic clues.
Ethical Hacking
Sin reign supreme in our current world and with increase and rise in digital life and technology, the bad guys are surely on side to cause series of attacks, theft, scandal on our systems and more.
You could be the saviour. With time, in fact, right now, EH is coming to become a job quite relevant with the manner at which many industries are going digital. Ethical hackers are becoming hotcake for industries such as banks, multinational companies and as other industries fast adopting digital approach to their mode of operation.
Agriculture business
You'd think farming is old but in this world we are, human will never stop consuming food anytime soon. Not even technology would put stop to the cause but facilitate it. If there's any business that would always sell and buy, then that business will always remain agriculture. And by far, this days, you necessarily don't have to pick up a cutlass and hoe before getting involved. But even at that, nothing spoils *winks*. Doing agriculture business provides a level for investment -if you're going beyond farming skills, but you'd need the right set of strategy to hit big really. Perhaps it's the right time to talk with experience successful agricultural business merchant or weigh all you've got with a business strategist.
So that's it. There are definitely other things you could do to slay this year 2018. I hope this gives you the right motivation and sense of direction to do something, something different or more. Just believe there's diverse opportunity lying in 2018, and see yourself as responsible.
You know bills have to be paid, and you won't always wait for me to bail you out.