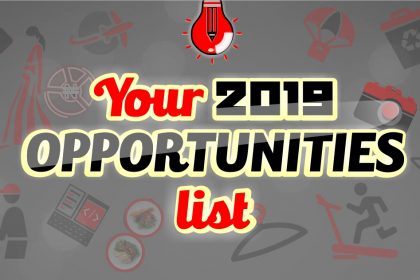 Imagination
Did you just say who get paid for imagining? But in reality, many inventions we see today were born out of mere ideas

What now? You go into the realm of your weirdest imagination. Think about anything; possible or impossible. Fair enough if it looks good to you. Even better if weird. Just know; that weird imagination of yours, could be the next big thing to shake our world
Problem solving
Who doesn't like problem. Well, that of course is a problem.
People with negative mentality tend to seek empathy from a (generally perceived) problem while those who are positive are in fact, looking out for problem and more problems.

Fact is that the more the problem, the more your chances of creating a groundbreaking solution.
PS: I understand the suggestions above may be sounding intangible as it is, but then, they're like the supernatural that can give you a groundbreaking result, blowing your horn beyond the ordinary by December 2019.
Artificial intelligence

The world is going bent on technology as it is, as human are lending their brain to tech, to perform better, solve logical tasks, interact with our reality.
Starting from your phone device, you must have been seeing how smart a collection of today's gadgets and applications now relate. It can only get better. By far, tech enthusiasts are becoming more and more obsessed on digitalising our world further, inputting smartness into different machines towards making our life and world become some more interesting realities.
It's most certain any investment you put into yourself to get equipped in artificial intelligence, will not only be worth it but turn you into an instant asset.

If you're really looking to make yourself a person of great asset to the tech world, then artificial intelligence is something you may need to consider and master.
Digital marketing/advertising
Is digital marketing still a thing of a big deal? Well, a big yes! As simple as it may seem now that it's becoming a common trade, mastering the art of digital marketing to the core, could give you that edge above contemporary and today's crowdy market of digital.

The beauty of the trade is the ease of doing it, especially if you're technically good with slicing your digital marketing onions. Moreover, it gives you a leverage to running side hustles.

You can make a business out digital marketing as an expert in the field, as you earn from different pockets who might need your professional service. What more? Digital business is flexible

Mini Importation/Dropshipping

These are like very hot trends in town, particularly dropshipping which almost requires no capital nor risk.

Mini importation entails you ship in product(s) from producing countries for sales or distribution in your own country, state or city, depending on your tentacle.

Dropshipping on it's own is about processing goods for a virtual customer.
If you are hearing of dropshipping for the first time, it is a way of providing goods by direct delivery from the manufacturer to the end-users (of the goods), and in most cases the manufacturer or manufacturing company is on a remote location. Dropshipper ensures transfer of the shipment details to the manufacturer, wholesalers or retailers, who then ships this goods to the final user.
Either way, importation and/or dropshipping, there's always a profit, though (profit) margin will depend on the quality/efficiency of your marketing strategies.
Coding
Let's just say coding; php, Python, java, which other programming language, just anyone or two or more.
With the rise in smart technology and software/application among other modern innovations, coding is just getting better with new languages and lines that narrate solutions to our world.
Digital skills, content and creativity

Anything you do in the line of digital-creativity tends to pay nowadays, depending on your technical skills, visibility and structure.
Creative/digital business encompasses a lot of trade, so we break it down to simple details
Graphic design
Web design
Animation
Comedy skit
Blogging
Acting
Photography
Video editing
Just anything else creative you can create online (or offline) that makes you a person value
As we can all see over these past months/years, many social/digital media influencers have risen due to quality or quantity of creative contents they're putting through (as the case may be for graphic designers and the likes) or on-line (for content people like bloggers, vloggers social media celebrities and the likes).
Personally I've delivered a number of websites and graphics jobs through the internet these past months and counting. Moreover, I also make earnings blogging.

You too can do something different or more to make a return from your skills and creativity.
Investments

This could prove something smart for people who are already making something anyway.
I always wonder why people would choose to keep money in bank savings account, when you can put in an investment opportunities like foreign exchange, fix deposit and the likes, or into other structured businesses and schemes.
Investments actually grow the money you have, instead of it sitting in the bank
Delivery company

There is no doubt production companies and online businesses are in dire need of the services of delivery agents in order to meet the demands of their diverse customers and or clients, and so, you can decide to run a delivery company, become a delivery agent, or some sort of middle man to connect tangibles to that end user(s).
What more, logistics business can be initiated with just a little capital, as most activities are being centered online. But then, you may have to decide working within certain areas or within your own location if you feel you can't deliver to farther distances.
Foodstuff/food on the go business
Food is the most basic need of life, and so food and foodstuff vending could be just another way to make money in 2019. Many people (or say people like me) do not have the time to prepare food for themselves, while also those that do (have the time &/penchant for cooking), need to buy foodstuff to make meals; and so, making just everybody your targeted audience. How sweet that is!.. making dough money from everybody.

For food vending, you can open a small shop for foodstuff (if you have the capacity though), but not without making your brand available online. By far, being a full time online-based foodstuff and food vendor isn't a bad idea, especially if you live in a city like that of Lagos.
Fashion business
From time in memorial, fashion has been highly esteemed by everyone, and even getting better in this our "trending" era. We tag it trending, as you also can see; people are willing to pay any amount just to look fashionable.
Talking about fashion, you can make money being a fashion designer, not tailoring (smiles). Fashion designing here encompasses all sector of fashion, from hairdressing down to shoe making, and trust me 2019 is going to favor Nigerian fashion designers, as the idea of imported stuff is gradually fading out and the focus is now on locally made materials and styles. Moreover, fashion business will not only favor the fashion designers with the demand rate for fashion designing materials like Ankara which is on high.
Photography

People are willing to capture as many important moment of their life as possible and this makes photography one lucrative business you can do. The good news is that most coverable moment and occasions mostly fall on weekends, so you can just use this as an additional income avenue, in case you have a job already.

Plus, the photography market provides a space for as many, as there can never be enough photographers to serve our capturing market.

"WHY?"
Bloggers, boutiques, fashion designers, newspaper and magazine publishers, advertisers and other businesses cannot run effectively without photographers, be it for advertisement or for description.

But photography requires skills really, why you must always learn to improve your photography handling.
Already good at this? Then you are good to go!
Dry-cleaning/Laundry services
With this you can make enough money from me alone, and I'm sure I'm not the only one you will make money from due to the fact that people are busy or lazy at washing, whereas for others, there's that special cloth(es) mainly reserved for Laundry man.
But this is one of those businesses which customer satisfaction is essential, then again some kind of branding and "packaging" will also go a long way.
Makeup business
Hey guys, before you skip this line, hear this. Makeup business is going beyond female folks, by far, even ladies now prefer the male folks working on their faces as long as you're good at painting. You may also be thinking that this market is becoming competitive, this is negligible due to the high market demand of the makeup professionals.

To become a successful makeup artist, artistic skills and professionalism, some marketing strategies may be required of you, but respecting your clients view is most vital.

Exclusively, you can also make money from this sector by buying and reselling makeup materials, or to compound your fave painting business.
Catering or confectionery business
This could be a business of passion though, but this is 2019 and whatever could bring money to the table should do it.

Many people derive pleasure in cooking, baking and other sort of kitchen work, but the truth is there is no big deal in deriving pleasure and making money at the same time.

Let's get real, everyone is a lover of food, and to be precise, lover of good and delicious food, so, if you can cook and bake very well, why not?

Taking you further, you may need to learn things like some cuisines and recipes. Although (training) can be fairly expensive, but you gain at the end.
One other thing about catering is being creative and getting the right formula that define your taste, that unique taste that differentiate your spices oh LA la
Gym business

The rate at which people are embracing body fitness is quite alarming, and as a smart as you are, you could take you own share of the fat.

Although gym business could require a fair capital to setup, you may have to rent a suitable place (spacious) and necessary equipment and tools. For facilitation/expenditure ease, you can partner a trusted ally.
Agriculture business

Agriculture is indeed a lucrative business, over the years this aspect is gaining a lot of attention from the youths due to the fact that the petroleum sector is gradually crashing, as government also tries to revive the agriculture sector in order to reverse the current Economic crash down.

As an individual considering the farming business, there are a lot of government policies and programmes which are now in place to help the upcoming farmers, even from private sectors and even individual.
Personally I invested couple of hundred thousands into an agric business which yields me good roi bimonthly.

By all means; personal investment or input, government, private group or individual investments, you can actually venture into agric business and expand at it.

Farming business actually provides a lot of avenues from which you can take money from; including piggery, poultry, animal feed production, livestock farming, and so on.
Waste management
The inquisitiveness of knowing how to properly dispose and reuse waste materials obtained during our day to day activities has led the intellectual individuals to device means to turn waste to wealth, and hear me there's actually money stashed in the dirts.

Come to think of it, after getting paid for unloading our compound/environs of waste, the waste is being processed into reusable materials from which another set of monies are ultimately made.

The beauty. You can start your own recycling business with little or no competition as this business aspect is widely untouched, though you may need to know the technicalities of turning waste to wealth, which of course you can learn.
Paper bag production
The combined need to produce less hazardous product and the need to communicate and advertise more effectively to the general public has made paper bag production business lucrative, graphic and pictorial drawings are easily transferable to paper bags and the good news is that it cost less and is biodegradable.
Transportation
It sounds awkward to be ignorant of the fact that transportation is one of the ways to make money. With a vast population like that of Nigerian cities, engaging in transport business won't be a bad idea at all.
If you have a private car looking to make easy cash, just an online account with companies like UBER or TAXIFY should do, and watch them bring you business by connecting you with people near you, thereby saving you condo stress.
VTU business

VTU is an acronym for virtual top up, it is a passive way of making some side cash by buying recharge cards online from the telecommunication companies and simply recharging the telephone line of family and friends.

The telecommunication company sells to you at a lower rate so that you can sell at standard price to customers and still earn profits, so what, you can grab this opportunity besides