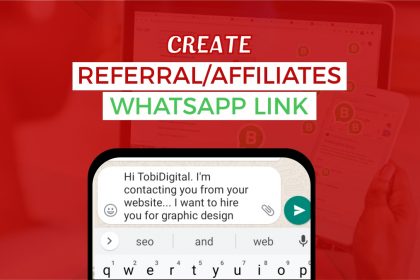 Now, this is one subject with diverse meanings, hence ways to go about.
Time needed: 1 hour.
Whether you are looking to create a web/hyperlink to WhatsApp; the one which simply directs prospective contacts to your WhatsApp DM, or you are looking to build affiliates link; based on unique links, these guides should get you covered.
Simple web link to WhatsApp

If you are looking for a way to generate a web link to your WhatsApp DM, you may want to do that here

Create a unique/referral link to WhatsApp

Creating a link to WhatsApp is just the basic, but when it comes to digital marketing purposes where you may want to track the performance of your campaigns, you may require to do more to be able to understand how your campaigns are faring.

Say you are running different campaigns on a range of branding services including graphic design, web design, print/production services, you may want to understand where each of your potential contacts is coming from. You may also want to outrightly get the view of the very service which a prospect is showing interest in, and perhaps more.

Personally, I have a number of web pages set up for different services which I'm offering, but I have to make for a means to easily understand where my web user is coming from, and what exactly s/he want, simply by a click.
Please note, this doesn't only apply to web/or blog.
For instance. if your own medium is social media, say Facebook, you may easily state "Facebook" as the medium from which the prospect is reaching out. Specifically, if I'm setting up a similar link for Instagram page, the text would read Hi TobiDigital, I'm contacting you from your IG. I want to hire you for…"
The important thing here is the hyperlink/web link, the platform and the cause you are making for. In short, you can create unique WhatsApp links through which prospects can reach out to you for your services, products or a cause, and share across any digital media platforms; social media, web forums, blog, web pages… you desire.
But side attraction to this is that this also personalises your prospects' experience, saving them the stress to shalaye.
If you are looking for how to achieve a referral link to WhatsApp, you may want to generate the link here, click.
Creating affiliates link for WhatsApp
The step aforementioned would be very important for your understanding when it comes to affiliates marketing through WhatsApp. Affiliate marketing notably entails sharing or promoting other people's products or services for reward. This means a brand promoter earns a certain commission or profit for sale/proceeds made on their marketing efforts. Now for you, you may be the product owner/seller or servicer who wants contacts to refer the sales to you. But how do you recognise who is who, more so, which referral is coming from who? For instance, you are to run a digital campaign and have enrolled Tobi, John, and Muhammed into your marketing team. How do you identify the contacts which Tobi had referred from the ones which are coming from John?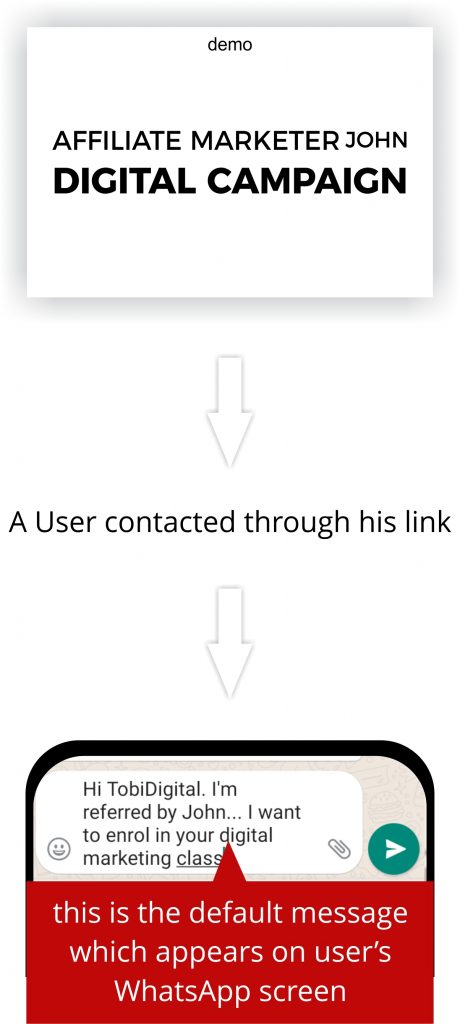 The above chart indicates a presumed affiliates marketer (John) promoting your WhatsApp link > A prospect clicked on the link and landed on your WhatsApp DM with the default message indicating John referred them.
If you are looking for how to achieve a WhatsApp link for your affiliates marketing campaign, you may want to generate the link here, click.
____________________
Why WhatsApp
WhatsApp Messenger is becoming a key channel in digital marketing, and rightly, it's arguably the most used and most engaging platform among the ranks of social media/messenger apps.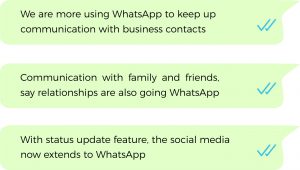 If you are looking to adopt a chatbot/auto-reply for Business WhatsApp, you may want to reach out to us. Plus, we offer ranges of solutions on WhatsApp for marketing, customer support, automation.
You may also want to download our guide on WhatsApp marketing which we detail set of solutions and best practices on WhatsApp for Business