Understanding Chatbots and how they will dominate customer service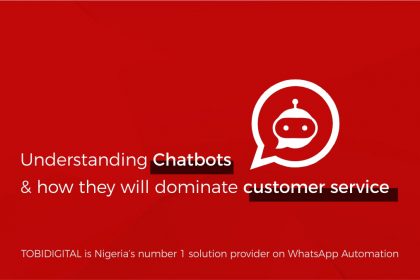 In today's world, Automation is becoming increasingly adopted, thanks to the immense possibilities of technology. Businesses in various industries are down for the trend; we are always looking for means to get work done faster, easier, even smarter. The customer service department is even crucial, 'cause human behaviour and patterns are changing. We are in a fast world. Human wants answers right now, even as they want issues resolved the same moment.
Perhaps customer experience should be a key concern for businesses, as it's now beyond how capable one's business/services are. The usual factors in spite; how you treat your customers, the quality of your service delivery…remained (among others). Howbeit, While measures it takes to satisfy a customer are changing, what hasn't changed is (overall) customer satisfaction remained the backbone of business success.
The changing pattern of customer support system
Customer Care department (/representatives as they are called) are tasked with the responsibility of answering customer queries, taking orders, inquiries, complaints, and helping the customer better understand the business, amongst many other things they do. The traditional channels with which they receive customer queries and or inquiries are mailing/letter parcel, then telephone calls, text messaging, to email, but in recent years, these channels are being stretched beyond what used to be, thanks to technology. Customer Care representatives/su[pport department can now receive customer queries, complaints, or inquiries via social media, live chat, chatbots, and Customer relationship management (CRM) software/apps.
Responding to customer queries can be a tedious process due to the number of people that customer service representatives have to attend to, and also due to the fact that a number of customers may have the same questions and or enquires, therefore stretching customer service representatives will have to be repeating themselves over and over again. Now, this is why or where automation is being considered, as with automation, customers can get answers to their questions/enquires and resolve common challenges all by themselves, what is known today as "Self-care."
The idea is that the customer will interact and send queries to a computer program or application that simulates the normal customer service representative experience, the computer software then processes the data and send responses that have been predefined and automated back to the customer. This way, more customers can be able to make inquiries and resolve issues within a shorter time frame compared to having to wait on the line for a human representative and the process it takes in getting issue resolution. Computer programs, software, or mobile applications that simulate the human customer service representative and the experience are what are known as Chatbots.
Chatbots interact with customers in a natural way as one would find when interacting with a human customer service representative. Chatbots are designed to convincingly simulate the way a human will behave when having a conversation. Built using artificial intelligence (AI), chat bots basically carry out interactions with customers via text, but verbal communication is also possible. Developers and artificial intelligence experts are still working to make it possible for Chatbots to have end-to-end verbal conversations with customers. For now, chatbots can only have a one end verbal conversation or interaction with customers as seen in automated calls. In these automated calls, customer response can only be collected via text input but with advances in technology, chatbots will be able to receive verbal responses from customers in less than no time.
But then, businesses in the banking sector, mobile network providers among others are using text/ussd to interact with customers and renders basic services.
Benefits of Chatbots
Chatbots may be beneficial to both customers and business owners. While the benefits are numerous for business owners, the obvious benefit for the customer is that it saves the customer some valuable time, as chatbots can attend to a large number of people at the same time. The benefits of Chatbots for business owners include the following:
Customer satisfaction


Customers are always happy when they can get their issues resolved fast, and Chatbots can receive and process customer queries in record time, leading to a happy and satisfied customer
24 hours service


Unlike the human-powered customer service, chatbots can work for 24 hours a day, 7 days a week, even 365 days a year.
Saves money


Instead of hiring a large number of people to attend to customer queries, business owners can save money by using chatbots. With chatbots, there is no need to increase your customer service staff as your customer base increases. Also, no need for breaks, vacation and overtime pay.
Builds brand image


Customer satisfaction would enhance brand perception. Attending to customer queries using Chatbots will give a big boost to a business brand image, despite a fast solution to their issues and/or queries.
Monitors customer data and gaining insight


With Artificial intelligence and machine learning, chatbots are able to collect and monitor customer data thereby providing insights for your business. These insights can be used for marketing, product improvement, website optimization among others.
Where do we go from here
80% of businesses claim they want to start using chatbots this year. Judging from the benefits, it is easy to understand why they are thinking in this direction. In recent research carried out by Tidio (January 2020), it was deduced that 43% of customers prefer to message an online chatbot rather than to phone customer service centers when communicating with a business.
From the above figures, we will notice that business owners and customers are becoming keen for more involvement with chatbots, this clearly shows that chatbots are among the fastest-growing trends in both digital marketing and customer service. Also, these figures coupled with the enormous benefits of chatbots to business owners, show that the future is bright for chatbots as they may be fully integrated into the customer service industry to replace or partner human customer service representatives, sometime in the future.
In recent times, we have seen traditional business units been replaced with technological gadgets and tools. In photography, for instance, the use of drones to capture aerial images has replaced the need for a photographer to go up in a helicopter with a camera in the hunt for footages. With a simple drone, a photographer can capture images of a whole city without even having to move – made possible by technology.
Back to chatbots, as a business owner, developer, or an enthusiast, Chatbots could be the next big thing you may want to invest in. Asides the numerous benefits attached to it, it could be the leveler or tweak to hit the big stage.
_________
You may want to employ chatbots for your business and take your customer experience to a whole new level. We offer a solution that supports businesses with customer supports on issues ranging from services, requests, complaints, and questions, on WhatsApp.
Talk to us. We can help you automate your Business on WhatsApp for communication/support, marketing, branding, and much more.
You may also want to learn more about our solution for WhatsApp Business (WA-API)