Everything you need to know about the Jumia JForce and how to join
JForce is a nationwide network of sales consultants placing orders on Jumia, on behalf of themselves and/or other people (Family, friends, others). As a JForce agent, you are eligible to earn HUGE COMMISSIONS on every order you place on Jumia.
How do I join?
To join the JForce program, fill out the form on the registration portal at https://jforce.jumia.com.ng/home or this link to sign up.
You may want to learn about an alternative sales scheme; the Konga Affiliates Program, here
How much can I make?
You can make as much as you want, as the sales commission you get over a period of a month is solely based on the volume of products you find, and place an order for, on Jumia's website. You can also earn extra money on your network of downlines, being people you have referred to join the J Force program.
You may also want to join our WhatsApp group for exclusive tips and info on growing your sales and level on the JForce Program. Fill out the following form to request to join us
If you want to learn how to sell big as a JForce Agent, get into this discussion and learn every means available for you to make money from JForce by Jumia
Do I ever have to come to a Jumia office?
No, you do not have to visit Jumia offices, but can attend their free though non-mandatory training sessions that are being provided.
What do I sell?
As a JForce agent, you can sell anything that is available on the Jumia website. Jumia presently has over 10,000,000 products on its eCommerce platform, although many of the listed products are from a third party (Jumia sellers/vendors).
How do I sell? Do I get the products?
You can place an order for yourself or on behalf of one of your customers, on the Jumia website, using the same account as the one you used to sign up for the JForce program. The products then get delivered to your customer via Jumia's Logistics network.
How do I install the JForce App?
Installing the JForce App is very easy. For instance, if you visited the JForce homepage on mobile web (esp. from the Chrome browser), you will be prompted to add to bookmark the page. There will be a pop-up message to create a shortcut on the home screen, click allow. Here's the link to the web page
Do I have to personally deliver items to my customers?
Delivery to customers used to depend on the consultant's preference, some prefer Jumia to deliver to their customers while others prefer to deliver by themselves. But now, only Jumia takes up the hassles regarding delivery to the end customer.
How do I get my commission?
Commissions are paid within the first 15 days of the next month for orders placed the previous month. The payment is made to the account submitted to the Jumia database form. However, the commission is now being paid on the 15th day of the month for previous months' successful orders processed through your account.
Here are the general commission rules>>
Commissions are paid based on product category, levels, and customer acquisition category, as what a bronze member gets upon selling an item is different from what a silver member gets for placing an order for the same items; the same for Gold and Captain. As it is, the more your level and your customer acquisition on JForce, the more your commission.
Product category on the Low includes Appliances, camera, computing, games, consoles, phones, TV, tablets
Medium includes Automotive, books, events, and groceries. BKT, cooking
High includes fashion, beauty, sports and fitness, mobile and tablet accessories, small appliances, Hifi stereo, and DVD.
Customer acquisition categories include low customer acquisition, Medium customer acquisition, and High customer acquisition.
There's also an indirect commission fixed at 0.5% across all levels. However, monthly team sales must be 460,000 naira delivered final (excluding the team lead).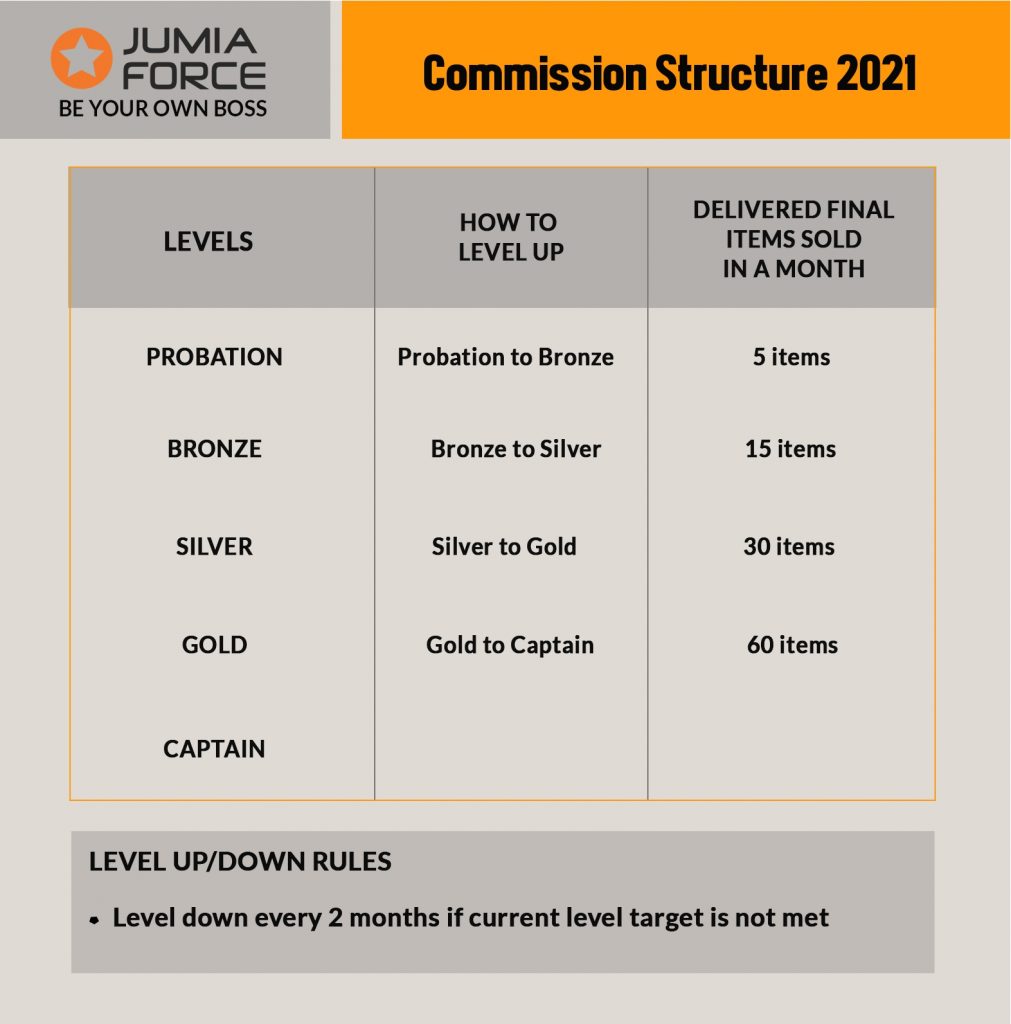 How does cancellation rate affect my commission?
The knowledge of cancellation rate and how it affects you as a consultant is vital hence, this breakdown.
The cancellation rate is the percentage of cancelled orders in a month.
Jumia claims order cancellation affects their business negatively and you are advised to avoid this as much as you can.
To avoid cancellation, ensure you or your customers want the item(s) before the order is placed.
Once the order is placed and cancelled even immediately, your cancellation rate will be looking bad and may cost you your entire commission
Above 25% cancellation rate in a month = 0 commission
Above 30% cancellation rate can lead to potential delisting
How do I calculate my commission?
Of course, yes, you will still get your commission as long as you place an order using your JForce registered email. The commission structure is on the app. You can gain access to the app once you agree to the JForce terms & conditions and check the corresponding commission applicable to each order or item sold and delivered. You may want to download the JForce commission grid for 2021 here.
Can I lose my membership to the JForce?
Apparently, you can. When your cancellation rate is consistently above 30%, then you may stand the risk of getting delisted. Also, if you keep your account idle for several months (that is, you stopped placing orders with your linked account), you may be delisted from the JForce program.
If I place the order myself, will I still get my commission?
Definitely yes!
Jumia does not discriminate on the type of customer or contact the order is delivered to. This means you will receive a commission as long as you placed an order through the same Jumia account linked to your JForce account.
How many days does it take to deliver items?
Jumia's delivery is estimated to be between 3-8 working days. For more precision on the delivery of a particular item, please go to the product's page. A more precise delivery estimate will be shown there.
How are my sales tracked?
Well, the sales are tracked by email addresses. This means you must use the Jumia account associated with the same email you used to register your JForce account. It's not the best practice for a JForce agent to have two separate Jumia accounts, as you may just mistakenly place an order via the account whose email is not associated with the JForce account. So, the best practice is to maintain a single account and ensure the same email you used to register your Jumia account is the same email used to register JForce.
What is the difference between delivered orders and completed orders?
As Jumia currently has a return policy of seven (7) days for which a customer can make a request to return the order(s) purchased, your commission would be hanging in escrow during this period. If after seven (7) days, Jumia does not receive any complaints or a return request from the end customer, the reward is posted to your commission account/balance.
How do I use my shipping voucher?
You can use the shipping voucher while placing orders. You will see the options on the checkout page of Jumia's website.
After clicking on "buy now" and filling in your address, you will see a voucher field on which you can enter the voucher code – just before "Confirm Order". There you insert the shipping voucher and click apply.
What is COD area?
COD: Cash on Delivery. These are areas Jumia can ship to and customers can pay cash upon delivery of the items.
How do I pay using prepayment methods?
These options will work for areas out of COD and items whose price is 200,000 Naira and above. You select the item, > buy now > shipping address > Payment options > select JUMIAPAY which allows you to pay with a debit/credit card and use your card info. Jumia prepaid payment option is 100% secure process and the payment page is not being seen by anyone. The system does not collect your bank or credit card details at any moment during the transaction, as your connection and payment are encrypted and secured.
I called customer care about a return and they haven't come to retrieve it, what should I do?
If you have been informed that the item has been scheduled for retrieval, please be patient, it will be retrieved. Sometimes, retrievals are not immediately done and may take between 1-3 days or more depending on the location. You may want to follow up by sending an email to thejforcehelp@jumia.com.ng or call 01-2772365
How to level up on JForce
To level up on JForce, there are criteria that you must meet every month mainly based on the volume of sales you make every month, besides avoiding a high cancellation rate.
While you are on probation being the first step, you are to sell at least 5 items every month to level up to Bronze membership, 15 items monthly to level up to Sliver membership, 30 items monthly to level up to Gold membership, and from Gold, you must be selling 60 items monthly to get to the highest level being Captain.
Assuming I make 1 million NGN in the probation stage, will I automatically be promoted to captain?
No, based on what the consultant sold, s/he will be moved to Bronze and given the target for Silver to achieve.
Will I be paid for items returned or rejected?
No commission is paid for failed deliveries, rejected, or returned items.
When do I receive my commission?
Consultants must place minimum orders worth 30,000 naira in a month to be eligible for commission
The commission is paid only for orders that attain delivered final status (delivered final is 15 days after delivery)
Super deals will be entitled to 50% of the standard commission (Super deals are orders with a very high discount or free shipping)
Payments for sales in the current month will be made within the 1st week of the following month, for all orders completed. e.g August Sales will be made within the 1st week of September. However, the commission is now being paid on the 15th day of the month for previous months' successful orders processed through your account.
Must I use the GTB Account when ordering or to receive my sales commission?
When it comes to online dealing, some tend to assume that certain banks do it better. However, any bank account is okay to receive your commission payment; the same for transactions such as prepayment and COD payment, you can always use any bank of your choice.
I do not have a bank account number, can I still go on making sales?
Yes, however; you need a bank account to receive your commissions. You can open a bank account and update it on the JForce Website (once you do have a bank account).
Where do I find the SKU code of an item?
Go to Jumia.com.ng > Find the desired item > scroll to the bottom of the page to find the SKU field.
Whats' my ID number?
At the point of registering for the JForce program, you may be required to input your ID number. You may use the 11 digits number on your National ID or the number on your voter's card.
Do I get an ID card?
Jumia does not issue ID cards to JForce consultants at the moment.
If I do not reach my monthly level target, do I get back to the previous level?
If you don't meet your level target in the space of three consecutive months, you would be demoted to the previous level.
How do I place orders myself?
Select an item, click on buy now, Proceed to checkout > select shipping address > select mode of payment > submit order.
How do I create a Jumia account?
Visit www.jumia.com.ng > account > new customer > complete the form> submit.
Please note, password on Jumia's website should be different from the password that accesses your email.
How do I know my shipping fee?
Shipping fees are not fixed, they are determined after the delivery address is updated during order placement. The fees are determined by weight, location & quantity of items in the order.
Your shipping fee is displayed once you have filled in your delivery information.
What are B2C orders?
B2C (Business to Customer) refers to orders with 14 or fewer units of each SKU (Stock keeping unit: which is a distinguished number given to every item on the website) within a week or less than N500,000 total amount of an SKU in a week.
What are B2B orders?
B2B (Business to Business) refers to orders with 15 or more units of each SKU within a week or more than N500,000 total amount of an SKU in a week.
You may want to download this Slide/Powerpoint presentation on how the JForce Program works. Click here
_______
What other opportunities are there for me with Jumia
Partner with Jumia
Jumia gives you more avenues to increase your income and form more partnerships and expand your sales horizon while earning.
Will you like to partner with Jumia (JForce) and become a consultant extraordinaire? Here are some other services that you can benefit from.
Finance: Help Jumia Partners sell financial services in your region.
Automobile: You can market a car leveraging your connections that have cars for sale.
Online marketing: Help market other brands market more products.
Telecom: Partner with telecommunication providers
FMCG: You can earn from selling Fast Moving Consumer Goods.
You can earn from any of these channels.
Click HERE to choose your area of interest
Become a seller on Jumia
If you have a retail business, you may want to partner with Jumia by enlisting your products for more visibility and sales. Jumia marketplace (through the Seller program) is open to any business person looking to sell on the Jumia platform. Learn more about what it takes to sell on Jumia
Jumia Key Opinion Leader (KOL) formerly Jumia Affiliates Program
The Affiliate Program is an easy way to earn commissions by referring online customers to the Jumia website. You can use KOL creative ads or tracking links on your blog, website/or social media page to refer a new or existing internet user/customer to the Jumia.com.ng website, and get paid for every successful order placed through your link.
Become a Jumia Pay/POS Agent
Jumia JPay (popularly known as Jumiapay) now offers consultants the chance to be part of the Jumia Pay Pilot where they earn a commission when they sell Jumia Pay Products from Airtime, Data, Electricity Bills among others.
You may want to learn more about the Jpay here
Own a pickup station
Jumia is always expanding her network of pick-up stations and order points across Nigeria to increase convenience for its customers. And so, you may want to become a pickup hub partner by submitting your application for Jumia Agency here
_______________