Everything you need to know about the Konga new Affiliates Program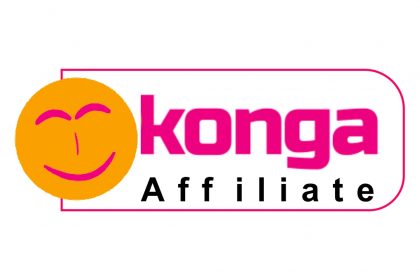 Konga Affiliates program KAP is one of Nigeria's topmost reseller program that enables you to make money by selling products for great commission, back-end commission, and profit. In July 2020, Konga rebranded the YuBoss program, an eCommerce affiliate scheme introduced by YUDALA (now KONGA), purposed for emerging entrepreneurs who want to be their own bosses.
With the new KAP, Konga is offering a comprehensive partnership opportunity to its affiliates, leveraging its wide range of products. Affiliate marketers make earning through the order(s) they placed (on Konga) or the ones placed by third-parties through their unique URL/links. Affiliates can also buy off from Konga and sell at their own rate, making a profit even as they earn commissions. Most of all, sales consultants can also promote their affiliates links and earn commission for every successful sales Konga made from such.
Steps to become a Konga Affiliate
How do I join the Konga Affiliates Program
To join the Konga affiliate program, visit this link and fill in the required details
or, use this form to register now
The Affiliates Structure
Konga work with 4 different bands for growth, namely:
Associates

Silver

Gold, and

Platinum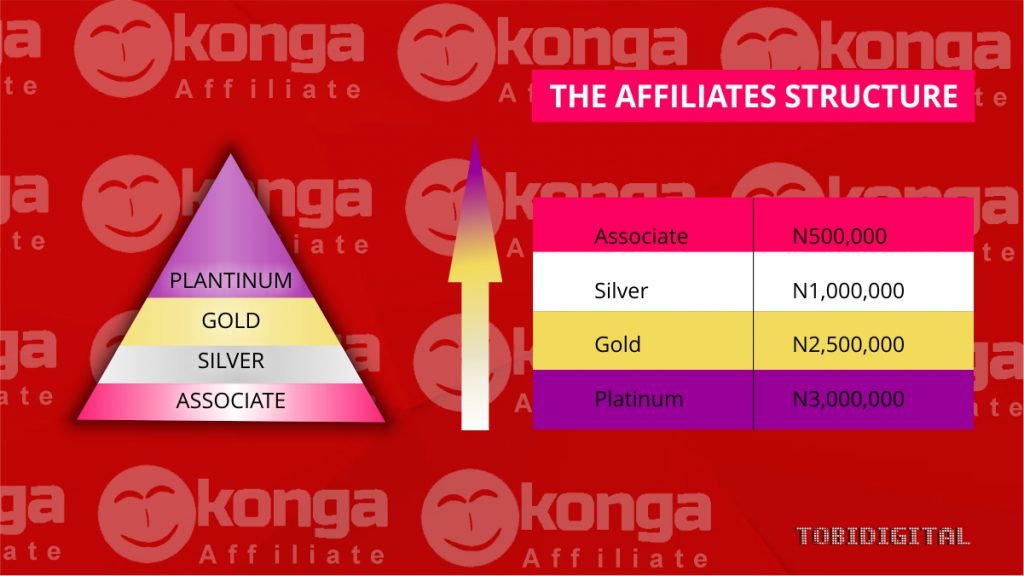 In order to move from one band to another, you are expected to meet the target for the band and show consistency for a period of 3 months.
In a particular month, you can earn the commission and back-end incentive of a higher band over the one that you were currently placed.
In order to move to a higher band, you need to show consistency.
Review of bands is usually done every 3 months.
How to earn as Konga Affiliates Agent
Here are the 3 ways to earn with Konga Affiliates
Commission -proceeds from orders placed through your link.

Back-end commission – if you meet the target for your band

Profit – if you sell at a higher price
Konga Sponsored Contract
One interesting part of being a Konga affiliate is "Sponsored Contract". As an affiliate, if you have a contract to make supplies to a reputable corporate organisation, you can inform Konga in time and work with Konga to win and implement the contract. Although the proceeds of the contract shall be paid into Konga's account, Konga shall share profit from the contract with you at the ratio of 7: 3. But you shall be (the one) entitled to the lion share 70% percent of the profits from contracts you brought. Although you shall be required to be registered as a corporate business for you to qualify for contract sponsorship by Konga.
How much (commission) do I earn per order placed
Commission/earnings are determined by the product category of order(s) you placed or order(s) that were placed (by a third party) through your unique link.
Meanwhile, you may download the Konga Affiliate Commission grid/structure here
Payment
How do I get paid as Konga Affiliate Agent
KAP currently has a minimum amount one must have accrued in order to be eligible for payment. Konga Affiliate minimum threshold is currently set at ₦5,000. This means, an agent may not be able to cash out until they've placed orders which commission equivalent to ₦5,000 /upward. Meanwhile, you as the agent must have effected your payment details at their Affiliate dashboard online; by going Dashboard>Profile>Payment details. There you either opt your payment is made directly to your bank account or into your KongaPay wallet.
To register/sign up for KongaPay, click to navigate to KongaPay registration portal
When do I get paid as a Konga Affiliate Agent
Konga pays between the first week of the month for sales commission proceed made from the last month(s), but the commission must have build up to ₦5,000 or more (being the payout threshold amount).
Walking you through the KAP dashboard
How to place orders as a Konga Affiliate Agent / via unique affiliate link
To place order as an affiliate agent
Visit konga.com and click on the product of interest.

On the product page, copy the link/URL from the browser address bar.
Then…
Go to your dashboard / affiliate.konga.com

You will see "DeepLink Generator" beside your unique link.

"Upon clicking on that (DeepLink Generator), the browser will take you to a page where you will paste the link you copied from the product page. You're to paste your copied link into the "Destination URL" and generate code

You may open a new tab and paste the link you just generated and complete your order.
Plus, for any successful order placed via the link, either the one you promoted via your website, social media network, etc, commission/earning will be credited to you.
Benefits of Konga Affiliates Program
Konga offers a number of benefits to its sales consultancy program. They include:
Great prices for a wide range of products

You earn a commission, back-end incentive and also profit

Access to training resources

Access to credit once you become a Silver affiliate

You will have the option of requesting for a KongaPay Agent banner

Benefit of holding a Konga Affiliate ID Card which identifies you with priority at any Konga Shop.

Open to Contract Sponsorship & Franchising opportunity once you show consistency in performance over time.

Friendly and helpful support
Other Opportunities open to affiliate agent include:
1. Bulk products purchase: This allows an affiliate marketer to purchase order in bulk at a much cheaper/wholesale rate while they sell at their own rate, either online or offline.
2. KongaPay for Agents: A robust payment service that enables you to carry out the following as a vendor while making commission:
Airtime and data sales

Depositing, receiving and sending money

Cable TV subscription etc.
How to register as a KongaPay Agent

Visit agent.kongapay.com

Input your details and after registration, log in to your dashboard

Thereon, you make transaction through your dashboard on the web or via the KongaPay App (you may download the KongaPay App here)
By the way, you will be required to add a debit card to your account. Your account is tied to the phone number you specify the integration.

When you integrate your business with KongaPay, Konga makes it easy to accept payment from your platform users online and In-store using KongaPay.
As a KongaPay agent, you earn a 1% commission for purchase of airtime, internet data, and TV subscription.
3. Kxpress
K Xpress is the logistics arm of Konga that delivers packages nationwide and offer the following services for agents:
A user-friendly API solution that provides agents/clients with an extensive range of built-in features for effective integration.

A sophisticated logistics services to help manage your entire supply chain process for your eCommerce business

An effective and prompt door-door delivery across the nation
You may want to partner with Konga logistics for your eCommerce business or so. Here are the links>> enquiries@kxpress.ng, affiliates@konga.com. 0909 299 6010
4. Sell on Konga Online
Konga also offers an online platform that enables you to reach millions of buyers from any part of Nigeria by simply having an online store.
Plus, you get commission for orders you place on your store as an affiliate marketer. This means you can use your Konga store URL/link to place order for your customer(s). While Konga helps you deliver your orders, you get paid for proceed made from the sale, even as you earn commission (as an affiliate agent) for the successful sale.
How to register/or sell on Konga

To become a seller on Konga, visit shq.konga.com/register or click on 'Sell on Konga' on the top right corner of the Konga portal at konga.com
You may also want to learn more on what it takes to sell on Konga
Konga Affiliates customer care/support
You may want to get in touch with Konga Affiliate official. The following links to their support channels:
Alternatives to Konga Affiliates Program KAP: includes
Jumia Affiliate Program; A link promotion scheme which an affiliate agent earn a commission for orders placed on the Jumia website via their unique URL/link
Jumia JForce; a sales consultant program offered by Jumia which a customer placed order on behalf of others and earn a commission for successful sales.

KAP seems to offer opportunities or alternatives to an enthusiast who may want to do business with Konga. As it turns out, beyond serving as a medium for the rising entrepreneurs or individuals looking to create alternative income streams, medium and the big businesses may want to get involved as affiliates. Just know, the more your activities and progress as an affiliate, the more your chances of claiming the Konga affiliates opportunities.