Everything you need to know about the Jumia affiliate program and how to join, make money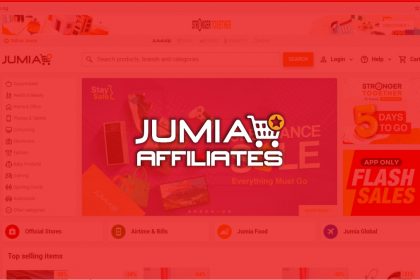 What is Jumia Affiliate Program?
Jumia Affiliate Program is an easy way to earn commissions by referring online customers to the Jumia website. You can use Jumia Affiliate Program creative ads or tracking links on your blog, website/or social media page to refer a new or existing internet user/customer to the Jumia.com website. On each successful conversion (/orders placed through your link), you may earn up to 13% commission -every time a user clicks on the banner or link and make a purchase on the Jumia website.
You may also want to learn about alternative means of making money on Jumia JForce program
How does Jumia Affiliate Program work?

Joining the program is pretty simple and free.
You may join the Jumia Affiliate Program by signing up at https://affiliates.jumia.com/register
Fill in your complete and accurate details.
Once your account is approved, start promoting Jumia.
You can use the provided creative banners or special promotion links to generate sales. On Jumia Affiliate Platform, you can observe your referred traffic performance on a daily basis.
Once your referred visitors shopped some item(s) from the Jumia website, you will be eligible for commission defined as per that item category.
Do I need to pay a sum to join Jumia Affiliate Program?
No, There is no fee required (from you) to join the Jumia Affiliate Program.
What is SUB ID?
SUB ID is an optional tracking parameter that you can use to track your campaign performance. For example, if you have two ad placements on your website/blog and you would like to find out which one performs better, you can generate two links with two different SUB IDS, then see how each SUB ID performs via report.
How to use Jumia Affiliates Program?
You may use the link builder or banners to promote for Jumia. Once a customer ordered through your affiliate link/banner, you will get a commission on all items the customer ordered, even if it's not the same item you are promoting for.
How to use the Jumia Affiliates link builder?
Click on "Advertising" on the left panel and from the resulting drop-down, click on Link Builder.
Choose the Offer you would like to promote e.g "Jumia Nigeria".
Copy the product page link from jumia website.
Paste the Jumia landing page you would like to promote e.g https://www.jumia.co.ng/groceries/
Copy the FINAL URL and share it with your audience.
How to get creative banners to promote efficiently?
You can use now the Jumia designed category and campaign creatives on your own platform(s)
Select the country you would like to promote for
Choose the category or the campaign you want to promote.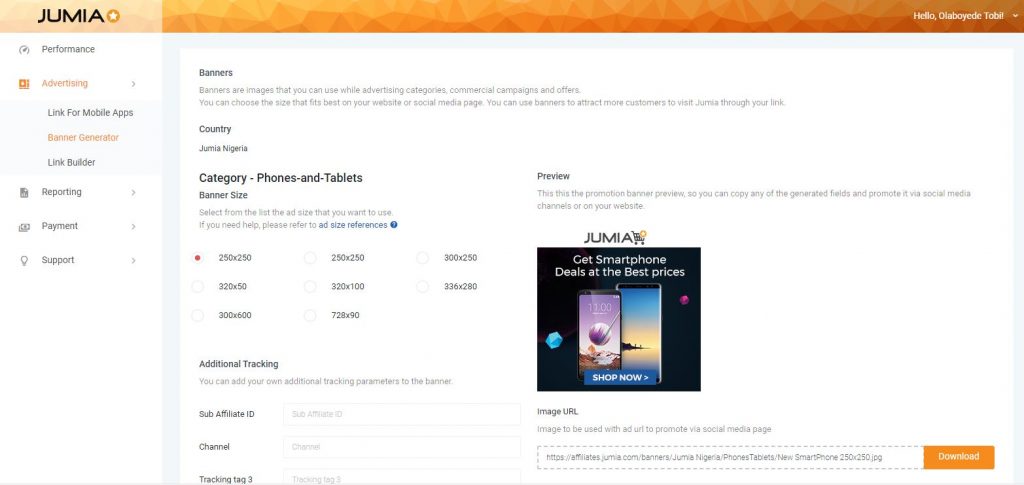 a. If you would like to promote via your social media channels, download the image via image URL and copy the Ad URL code and paste it on your social media page. You can attach the banner to increase your click-through-rate.
b. If you would like to promote via your website and blog posts, copy the Banner Code and paste it to the HTML code (back-end) of your Content Management System (such as WordPress) to make the tracked image clickable.
Can I advertise on Facebook? Or is it mandatory to be a website owner?

You don't need to have a website before you can promote a Jumia Affiliates Marketer. You can promote via Facebook, Twitter, Instagram, WhatsApp, others. Just be sure you are not using the Jumia brand name or logo to be committed to Jumia Affiliate Program terms and conditions.
What is Jumia URL page?
While promoting a product of interest. You may visit the Jumia website and search for the very product/brand you want to promote. For instance, you want to promote the PS4 game controller and you are looking to promote that as an affiliates marketer (so you can earn commission for every order placed through your link), just visit the Jumia website at jumia.com.ng and search for the product. You are to then copy the product page URL from your browser tab. Thereon, you go to your Jumia affiliate's account dashboard to make affiliates link.
You may now use the link you have generated through the Jumia Affiliates dashboard and start promoting on your choice platform
Can I promote for a single product?
Yes, you can. To promote a single product, use the link builder. However, it's highly recommended you promote the whole category.
Can I promote a whole category?
Definitely, yes! To promote for a whole category, use banners.
Can I advertise on more than one platform?
Yes, you can share/promote as a Jumia Affiliates Marketer on more than one platform; web/blog, social media, apps, forums, wherever.
What is the difference between total clicks and unique clicks?

Unique Clicks: Represents how many users clicked on your links. So, if a user clicked on your links more than once, the Unique Clicks Indicator will count that actions as one instead of two.
Total Clicks: This indicator represents the full amount of clicks that were made in all the links you have sent, whether they came from the same user or not.
What is the cookie's lifetime?
The lifetime of the cookie is 7 days, which means Jumia will track any order that happens through your link in a 7 -day cookie window after the click. This means that if someone clicks on your affiliate link, and then purchases any items within 7 days period post-click, you will still get a commission on all the items purchased.
Why is my commission still pending?
Commission is usually approved 3 weeks after the order delivery to be sure that it will not be returned.
Why is my commission amount reduced?
Your commission may be reduced because the customer cancelled some items from the order, so you may only be eligible for commission on completed/sold items.
Where to track my earnings?
Click on Reporting > conversions page,
Then Select the country
Adjust the dates
Select conversions status and click Apply.

Why is my commission rejected?
An order is rejected only if the customer cancels/rejects the order or if the order was placed by a J-Force agent (JForce is Jumia's network of sales consultants placing orders on Jumia, on behalf of self or others). Your commission may also be rejected if you have flouted the Jumia Affiliate Program terms & conditions.
​What does the payment status mean?
There can be three possible payment statuses:
Pending: This means that Jumia is reviewing your payment details, and validating is pending. Jumia would check to see if the details you've inputted are complete and if anything is missing. If your payment information is missing, the record will stay in pending status until the next month.
Sent to Finance: Once Jumia had validated that your details were correctly entered, your payment details would be sent to their finance team -responsible for payment. The finance team usually takes a week to pay.
Paid: Once finance confirms that your payment has been made, Jumia changes the status of your payment record to paid.
What are commissions % across categories?
Your profits will be split into basic commission + bonus, with some key changes to the commission scheme starting September 3rd, 2020. You may want to download the Jumia Affiliates commission model by clinking this link
What is the required information if I choose the bank transfer method?
The following information would be required>>
Select your country.
Select payment method Bank transfer.
Fill in the following fields:
Account holder*
Account number/IBAN*
Bank name*
Bank branch*
SWIFT*
NB: For companies, you may have to input your VAT number and if you are based on a free VAT country like UAE please mention " FREE VAT" in the VAT space.
Is there a minimum limit to withdraw my commission?
Commissions are paid at the beginning of every calendar month for all the commissions confirmed in the previous calendar month. There's a minimum payout limit equivalent to EUR 10 for individuals and 50 EUR for companies. If your commission is less than that, then it gets transferred the following month after your confirmed commission has reached the minimum limit.
When will I get paid?
Payment amounts are calculated based on the Order Update Date, and not order date. The date an order gets confirmed is the Order Update Date. For example in December, what you receive is the commission for any order which has an Update Date in November or any earlier month. There may be orders that happened in November but only became confirmed in December; you will receive this commission the month after.
What is the required information to get my commission paid?
The payment method varies from country to country, but it's mostly bank transfer and mobile cash transfers.
To add your payment details please
1-Click on Payment.
2- Click on Payment details.
3- Select your country .
4- Select the payment method available .
5- Fill the requested data.
6- Save information.
Why my commission is not paid yet?
You may not have met the minimum commission payout equivalent to 10 Euros. Normally, if your commission is less than that then it gets transferred to the following month, and the month after that until after your confirmed commission has reached the minimum limit.
What are the payment methods available?
The payment method varies from country to country, but it's mostly bank transfer and mobile cash transfers, as the case is in Nigeria. Just ensure you enter your details in the "Payment Details" page to ensure that you receive your payment on time.
Alternatives to Jumia Affiliates Program
Other Resources