Everything you need to know about the JumiaPay and what you can make of it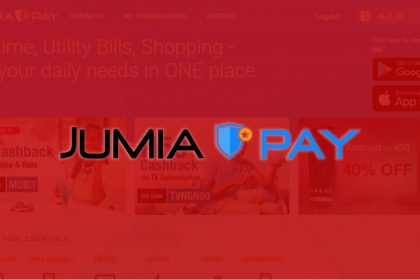 JumiaPay, formerly JumiaOne, is an all-in-one internet platform (strictly mobile app) that enables users to do a wide range of transactions ranging from mobile phone airtime recharge, utility bill payment, online shopping, food ordering service, flight/hotel booking and do much more.
Jumia claims they built the Pay platform to fulfill users' daily needs/payments online and aims to bring every online service in one place and to make them easier, more secure, and affordable to everyone.
Why should you use JumiaPay
JumiaPay services offer the following:
All in one: Jumia-Pay gives you access to a large number of digital services through which you can pay bills, shop online, book hotel and flight, buy ranges of properties such as house, cars among others.
Earn while you spend: With Jumia Pay, you can get a commission, discount, or cashback on transactions made. You can also earn for every friend/contact you refer to the app.
24/7, 365: JumiaPay is accessible anytime of the day, 7 days a week, 365 days a year. Their platform offers no opening time or closing time, same for every transaction you may want make or services you may want to purchase.
No convenience Fee: Making payments such as utility bills among others may not come without a charge, especially if you are using some banking platforms. However, Paying bills through JumiaPay may not incur you those added/extra charges on bill payment.
Convenience: Ultimately, with JumiaPay, you do "everything" from the comfort of your home, beating the stress, queue, and extra cost of running some of the errands which JumiaPay runs for you at a fingertip.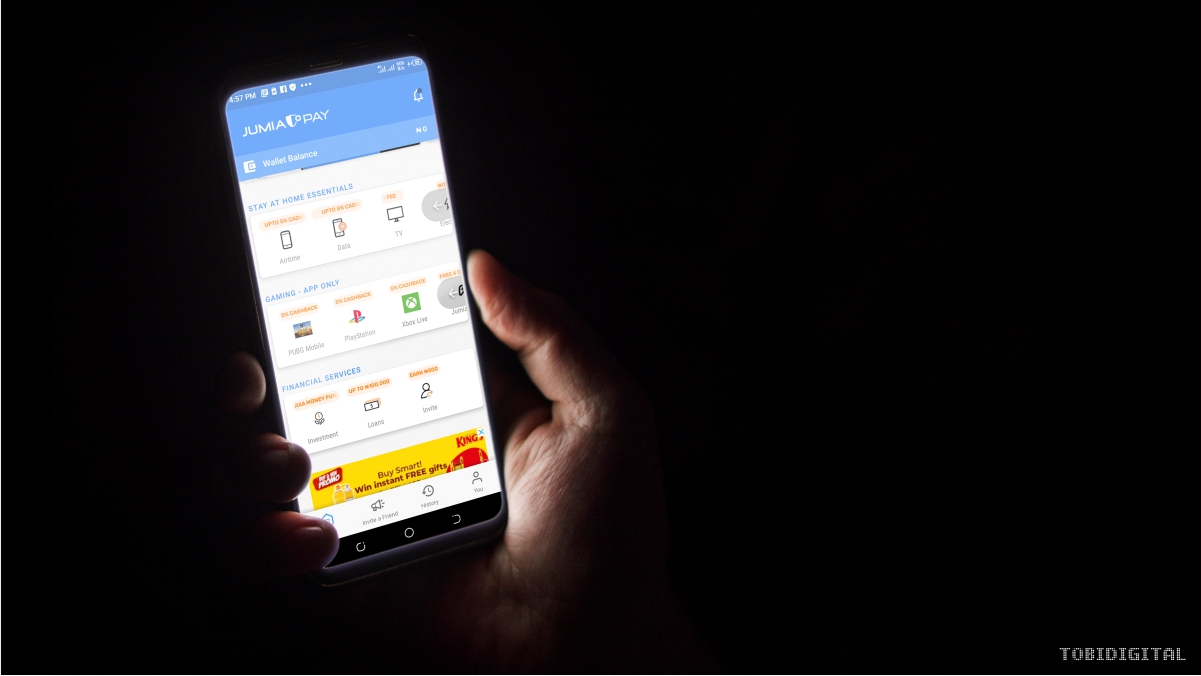 What can I do with JumiaPay
JumiaPay offers ranges of services put in the following categories
Stay at Home essentials covers Airtime, Data, TV subscription, Electricity Bill payment (prepaid and postpaid), Internet subscription (for SWIFT, Smile, Spectranet), airtime top-up for international phone number.
Gaming
With JumiaPay, you can also apply vouchers and or top-up for mobile and video games subscription such as PlayStation, Xbox Live, PUGD mobile, and more.
Financial Services
JumiaPay also offers financial services such as investment and loans powered by third parties such as AXA, Quickcheck, and more.
Food, travel, and entertainment
Here you can order food, drinks, and other edibles from the Food, party, and grocery store with Jumia, place a bet from nairabet, others, book a flight or hotel ticket, or order a ride from Uber. You can also pay for Lekki concessions LCC toll fee, and access the MTN music store, and more.
Voucher codes, coupons, license keys
With JumiaPay, you can unlock digital services from the Google Play Store, Microsoft, iTunes, Netflix, Tinder and more.
Shopping
Jumia also presents featured offers and product categories of interest which you may want to patronize. This links to their e-commerce/marketplace platform at jumia.com.ng.
Services
JumiaPay also offer services such as JumiaDeals, a classified ad platform through which buyers can meet sellers, Jobs which links to online career platform, Jobberman, Houses hosted under JumiaDeals, JumiaProd, a platform where creative can enlist and be hired on-demand. Then the JumiaHeroes, a charity initiative that encourages you to compensate delivery agents for their essential efforts.
How to register for JumiaPay
To signup for JumiaPay is fast and easy.
If you already have a Jumia account (i.e a customer account on their shopping site jumia.com.ng), you can simply go to this link. Download the app and use your Jumia account login detail to directly access JumiaPay.
For new users, you may log in using Facebook or/ Gmail account, if you have one. You may as well choose to provide your details and create a new ID and password to begin.
In case you have an account with Jumia but can't log in, ensure you entered the right ID and password. You may also use "forgot password" to reset, in case.

Alternatively;
Go to login page from the Jumia homepage jumia.con.ng

Click on the "Forgot your password?" button.

Enter your registered email address.

Jumia will send you an email to reset your password /or to recover your account.
How can I pay on JumiaPay
To pay on JumiaPay is easy, but Jumia offers a couple of options which include the direct bank transfer and debit card.
1. Bank Transfer
In case you don't have a working debit card or you are being protective of your card details, the bank transfer payment option may be your best option, perhaps with overall utmost security.
Here's how to use bank transfer as a means of payment on JumiaPay
Choose your purchase and proceed to pay on JumiaPay app

Choose "Bank Transfer" as a "Payment Method"

For first time user, add your 10 digit NUBAN (/bank account number) and the exact name linked to your account.

You will receive the one-time password (OTP) sent by your bank to your phone. Enter OTP to validate -for the first time (this only initiates for first time users only).

Proceed to pay now by entering another OTP (which would be sent by your bank to your registered phone with them) to complete the purchase.
For issues with OTP
If you do not receive the One Time Password (OTP) to verify your phone number, you can text ALLOW to 2442 to deactivate the do-not-disturb feature that may have been implemented by your mobile phone network provider; hence flagging the OTP from getting delivered to your phone.
After this, you can try verifying your phone number again.
2. Debit card
Jumia pay offers you an alternative but secure way of making a purchase via the debit card (Mastercard, Visacard, or Verve) issued by your bank.
Here's how to make payment with your debit card on JumiaPay
From checkout page, proceed to checkout and select the debit payment option'

Enter your card details such as




a. card number




b. expiry date




c. security code (the 3 digit/CVV number at the back of your debit card

Enter OTP received on your registered phone, as sent by your card issuing bank.

Verify and complete your order
JumiaPay opportunities
Jumia offers affiliates opportunities for you to earn by referring a friend/contacts.
Here's how to invite and earn:
Log in to the JumiaPay app

Click the 'Invite a Friend' icon at the bottom of the homepage

Select your desired medium through which you want to share with contact(s) (that is; Whatsapp, Facebook, Email, others.)




Your friend enjoys 20% cashback (up to ₦1000) on their first transaction when they use WELCOME20 voucher code
Points of note:
You must have at least one valid transaction on JumiaPay in order to benefit from the referral program.

You should have only one JumiaPay account in order to benefit from the referral program.

You only receive the bonus if your invited friend is a new user on JumiaPay.

Your friend can use the voucher code sent to them in order to enjoy the 20% cashback.

Your friend must download through your unique link and pay for their first transaction via the same downloaded JumiaPay Android or iOs app. Please note web purchases do not qualify.

Your friend needs to verify his/her phone number when asked to, during registration. If the phone number verification is skipped, you may not receive your bonus.

Your friend must pay for their first transaction using a valid card or bank account registered to their JumiaPay account.
JumiaPay agent
Jumiapay now offers consultants the chance to be part of the Jumia Pay Pilot where they earn a commission when they carry out transactions on the JumiaPay app. You, as a consultant, can own a POS machine and do POS business while also you earn a commission for every transaction you do on the JumiaPay app, either on behalf of yourself or for others.
You may want to learn more about the JPay Agent.
JumiaPay for Business
Jumia also offers a Pay platform/initiative for businesses that are partners. The JumiaPay Business web app makes for individuals/businesses who are sellers/or vendors on their popular shopping site/marketplace and for partners who are service providers from JumiaProd.
With JumiaPay Business, vendors link their Jumia seller/vendor's account to be eligible for payment on sales proceed and /or earnings from the Jumia vendor's account.
How to contact JumiaPay
Jumia Pay offers customers support on issues you may be having or for other inquiries; contact email cs.one.ng@jumia.com or call 23412772366
Alternatives to JumiaPay includes the
Kongapay: A local rival platform that offers diverse payment services similar to JumiaPay.
Jiji: an online classified ad platform that provides a simple hassle-free solution to sell and buy almost anything