TobiDigital@3: the story so far
When I started tobidigital.com in August 2017, I was in the mix of decisions and stuff; looking for a new challenge, taking on new skills, hearing those still voices of God. My contract had expired with my three months employer, but I know how valuable I've come to become just within the space of one and a half years in the labour market. Yea, I've worked with a creative start-up company as a web designer, content creator and social media manager, with a popular blogger as a content curator and a maritime company as social media specialist, but the top of it was my endorsement by Google as a rising star on the blogger forum for my valuable contribution. It was like the greatest privilege, having that yellow star badge and access to top contributors and experts on Google products, and the privilege to moderate what goes on Google official platforms/forums online.
By the time tobidigital started, I had an understanding and experience of what it takes to run a website, at least, website setup and designs, search engine optimization, content, and marketing, but the greatest asset is myself; intuition, flexibility, and ity to evolve and reinvent.
Setting up tobidigital.com earned me my next job. It happened it was what my last employer needed to see to set me on the negotiation table. I quit in January 2019.
Landmarks
Sometimes in 2018, I was inspired to create a system that internet users can use to generate a WhatsApp link to personal DM. I realised the only hyperlink WhatsApp had enabled was to group chat, not DM. But businesses and media (social) were gradually shifting towards WhatsApp, and I realised there's a need for a smart medium through which the internet community could generate a WhatsApp link.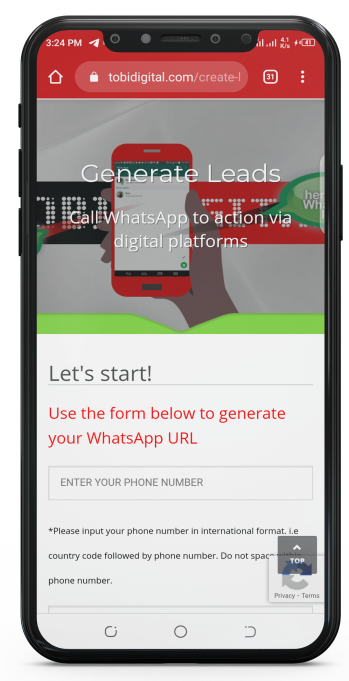 This proved to be the earliest breakthrough of the tobidigital website, as it brought about visibility, influence and earnings.
As of today, we have over five thousand subscribers to our mail list, via the very twist. Moreso, we are being able to create a number of solutions for business on WhatsApp messaging, partnering with a top customer service company in Russia to deliver ranges of solutions for businesses. Today, Google ranks us at number 1 as a solution provider for anything WhatsApp.
Our traffic source
The search engine accounts for over 87% of users hitting our site, and rightly, the search engine is our top priority in sourcing for traffic. We believe people using the search engine are in for information, this is unlike how bloggers go about shoving content in the faces of social media audiences, even groups.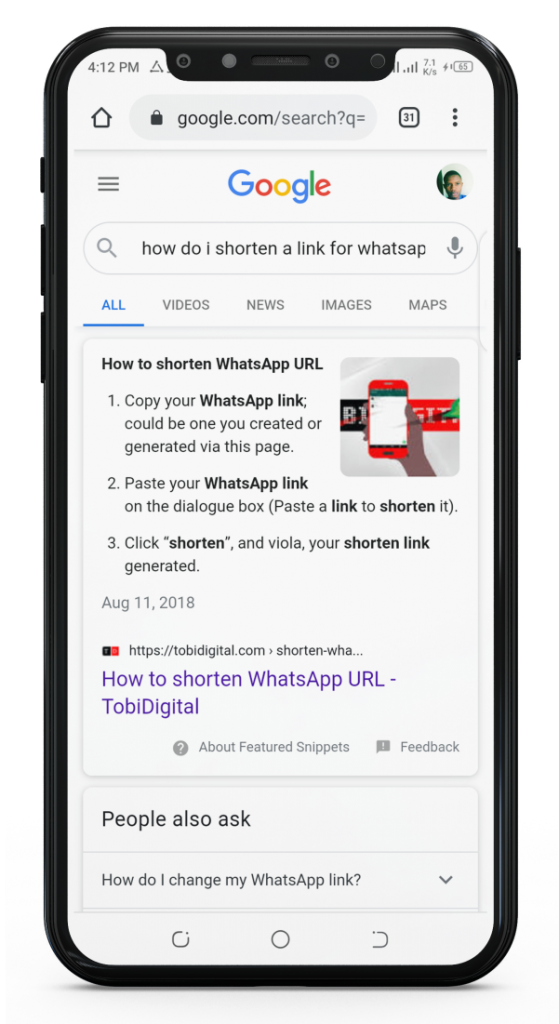 Content is for those who who may want to consume it, but for content maker, it's the product. Well, more like showcasing what they do.
Earnings
These past years, we've been contracted by individuals and businesses looking to hire a website/blog designer, graphics designer, digital marketer, for mentorship, consultancy and more, albeit these do not core to earnings from a website, with traffic as a currency.
Let's get to it. We are Google advertisements publisher and this is what actually scores us earning directly from traffic. This year proved significant to our earnings, as earnings from traffics and advertisements significantly improved.
Additions
In April 2020, we were able to add content writers to broaden our scopes and make the platform more engaging. The purpose is to leverage our authority on the search engines to market content, increase traffic, earning through advertisement, endorsement, partnership and more.
It's not been the best of times. Covid19 impacts are taking its tolls, as general earnings in the previous years at this time almost doubled the current year. However, making additions to tobidigital media is a necessary sacrifice that has to be made now. Though the reward is yet to be felt directly, web traffic has drastically increased these past weeks, albeit traffics to previous blog posts. But we are in good standing; what's important is to keep with the values and making some good impressions to our readers, prospects, and web surfers looking for solutions in the line of information we provide.
What we would have done earlier or better
The just aforementioned of course. For over two years, tobidigital.com content pace was slow, to say the least. Could have put more effort into content based on threads/ scopes which we cover. With the upshot experienced on the website engagements recently, it's certain there's much more in for us. Yea, the website traffic recorded within the space of about four (4) consistent months almost equals what was recorded in a whole year in the past.
But then, YouTube content is also something we should have invested in earlier. Just this year, from around April, we started giving slight attention to video content. However, within the space of no time, we have recorded thousands of views. Now we're just hitting our heads for not starting much earlier, albeit still grateful 🙏
Where do we go from here
To this end, We will be breaking up TobiDigital to subsidiaries. Currently, our services cover a lot in design/branding, tech solutions for business, and retail. We already have a retail brand that would change how eCommerce operates in Nigeria and beyond, but our design faculty too is undergoing branding and more...
TobiDigital will serve as the voice and face of some 21st-century companies/businesses. Moreso, as your informant on ranges of products, inventions, and innovations, providing specific information on kinds of stuff.
In the next one year, we want to create at least 150 new threads and quadruple our traffic at least. If anything, we would be working harder to do much more and overachieve.
We also want to increase our media partnership, but then also acquire advertisers through sponsored posts, mentions, banner placement, and more.
We want to increase our social media reach, followers and influence.
We want to become very visible, as a reliable source for info/solutions on scopes being covered.
What you could do
Well, you don't have to fry water. These are what you could do to help our cause
Or
[contact-form-7 404 "Not Found"]


Tobi Olaboyede
Operation manager, TobiDigital
STAY IN THE KNOW
Join our opportunity list and get fresh insights, data, inspiration
FOLLOW ON INSTAGRAM
Catch up with the latest TIPS in real-time. Raise your brand and marketing game
make a comment or read
STAY IN THE KNOW
Join our opportunity list and get fresh insights, data, inspiration
Search Google or type a URL
WHAT YOU CAN READ NEXT
VIEW ALL
Abeg was rebranded to "Pocket by Piggyvest" (PocketApp) on Monday, 27th of July, 2022. Abeg was...