Businesses you can start on the internet 2020
KOLADE OLADUGBA, TOBI BOYE
Abbreviations used in this piece may not be the standard, but our standard.
Covid19 has disrupted our world.
As we are being locked down, bills and expenses lie on the streets, as work is going remote. It's been a long time coming, changes have been looming to take over some parts of our lives, particularly the way we work, more so values. Technology is bringing a shift to our lives, doing simple and even sophisticated tasks, but to think of the fact Artificial Intelligence babies are still in embryo. There are uncertain times ahead.
Now, the positive side turns to the internet. Our lives are going there; businesses and works. It beacons hope, bridging communication, relationships, but most important are the opportunities within. With the internet, we can defeat the technology (a known threat), by getting equipped with one of those skills that birth it. That is the digital skills.
Following the impacts of the covid19, the internet community is getting online looking for money-making opportunities that can be done from the comfort of our homes. It doesn't even have to be a comfortable one. Why? The economy has taken a big hit of recent, as there has been job loss, pay slash, and irregularities with income flow. So as it is, we are turning to take on a new challenge or add up; start-up new career, open alternative income source, increase earning, and more.
Here are some careers, side hustles and more, which you can make on the internet.
1. Affiliate marketing AM
With little or no capital in-demand to start, the affiliate marketing business model leverages other businesses almost with no risk involved. As an affiliate marketer, you earn based on commission, by promoting other business services or products. Earnings may be fixed or based on a percentage of sales profit. But not only for you as a promoter, but online brands also leverage affiliate marketers to reach out to a larger audience.
As for business, AM could be considered a very effective way of promotion or advertisement, as in some cases, you're dealing directly with promoters who may already have the audience, plus you only pay when a successful sale is made.
As a promoter, you build relevance and credibility on established businesses; products, and/or Services. You also make earnings based on commission (which rate can be as high as 50% -depending on your contact).
As simple and easy as it sounds, the AM business is not saturated, but niche are in competition, the same for brands and businesses churning out products and services. While this can be seen as a microtask, it can also be an avenue to make serious money.

While starting out AM, first is to locate online brands, products, or services that may be useful or attractive but ready for the AM program. Popular brands are Amazon, Maxbounty, ClickBank, aliexpress among others. But in Nigeria, we have the Jumia affiliate program and JForce, Konga yuboss, wakanow, whogohost among others.
2. Facebook advertising FBA
Facebook advertising is a form of social media marketing that leverages the Facebook platform to advertise to its users/audience for conversion. Facebook's ability to reach an audience of interest and its pocket-friendly advertisement cost have made the social media platform the most preferred ad medium for small and medium scale businesses.
Running a Facebook ad may not be as tedious, but could also involve a lot of technicalities to maximize lead/conversion rate. This is why you learn the skill and become an expert in social media (Facebook) marketing. Then also, copy writing and graphic design could also increase your value. There are online graphic tools such as canva and which can meet your graphic demands.
Top companies, even medium and SMEs are willing to pay a Facebook ad/marketing specialist -capable of increasing their brand awareness as well as sales/profit. What more, you can work full time, earning good soft money, or as a freelancer having multiple clients. This model is even an avenue to do with, for a side hustle.
You may want to master the art of FBA by getting resources online or may want to get a coach (here) to put you through.
3. Google advertising (GADS)
Formerly called Google Adword, Google Ads is a PPC (Pay Per Click) system of advertising on the web. GADS incorporates keyword/text-based advertisement and picture/graphics advertisements on the Google advertising network. The GAD network comprises of Google search and AdSense targeted on web publishers/bloggers. GADS platform may seem unfamiliar but ensures your ads are presented/ displayed alongside search results which are similar to searched keywords entered by search users. It also ensures graphics/motion ads are distributed across websites/online tv partnering Google (AdSense) for visibility/, impression, leads, and conversion. Unlike Facebook advertising, Google ad is by far technical, and this is one of the reasons why it's not as saturated. GADS could also strike as more professional, as it could go to show how deep you've gone in digital marketing.
As GADS is currently unsaturated, Google ad experts are somewhat valuable in the job center, as their services are more in-demand by the top businesses/brands. Penny pinching businesses prefer social media marketing channels to reach out, but the ones that are able to spend big are on GADS' side. It also makes sense, top companies are competing to gain relevance/spots on top of the Google search and on content websites.
You can get familiar with Google ads and skills.
4. YouTube advertising
Another Google advertisement initiative. Unlike ads going static platforms which involves graphics or texts, youtube advertising involves motion graphics ad in YouTube video streams. Although cross-platform with the Google ads, the creative part of video/motion graphic ads is like the big deal, especially if you would be getting involved with the part of video creative.
5. YouTube Search Optimisation YouTube SEO
Just like website ranking on the Google search engine, YouTube SEO has to do with enhancing the ranking of YouTube channels on the online video-sharing platform. In practice, it involves optimizing Youtube channel, playlists, metadata, description, and uploaded videos.
YouTube currently has over 2 billion monthly logged-in users, and as for traffics, it's like the most visited website/app after the Google search website. If you're familiar with search engine optimization (SEO), the YouTube platform is another competitive platform for content, this time video (content).
Like web SEO, YouTube SEO could require a level of commitment, but you can determine your rate should you have what it takes to enhance the presence/visibility of video content going YouTube, as YouTube content creatives would pay anything for their works to be competitive/visible on the platform. What more, YouTube SEO is not even saturated.
6. Snapchat advertising
This advertising model is based on video making and very similar to youtube advertising, but Snapchat is used mostly by people within the age bracket of (18-34). So if you've got an offer that could be of interest to the youngest folks, here's for your taking. You could as well propose to businesses which audience is of essence to the age group.
7. Search Engine Optimization SEO
Unlike YouTube SEO, the SEO targets the content-based web domain/platforms, content in the context of text, graphics: SEO system involves ranking websites pages/images in order of importance or authenticity.
For a brand or web publisher/blogger, it's like the most effective way of gaining trust from the internet community. Although the process itself is not costly, just the technicalities involved. Becoming an SEO expert can project you to value, as businesses, web publishers/bloggers are scrambling for space at the top of the search, for keywords that resonate their brands; product and or services, and as for web publishers or bloggers, keywords that relate to niche and discourse.
For brands, the search engine is one organic medium to build trust and command authority from the general public. Although the technicalities involved in SEO can be cumbersome and extensive, knowing how the search engine works and applying the knowledge can bring instant results and this is what businesses are ready to pay for irrespective of the cost. Like YouTube search optimisation, this niche is not saturated. But then, policy and system algorithm change occasionally, SEO employee has to stay on top of trends.
There are a lot of resources online centered on SEO mastery. TobiDigital also offers a mentorship program for SEO enthusiasts.
8. Whiteboard explainer video (W/EV)
You must have been seeing videos with graphics/pictures depicting on a white, black, or transparent background, used to narrate a cause/awareness. Well, that concept is touted as the whiteboard animation. Explainer videos are a great way to easily convey ideas and deliver messages to an audience, hence making visual graphics an easy bait to promote businesses and boost conversion. Professional Video explainers/animators are among the most valuable professional creatives today, as they kinda own the trade. But there's more to being the go-to person; you can also use this skill for personal advantage, as you can create a concept, easily becoming a video content author.
Interestingly enough, the skill can be learned online but you may require every necessary software/tool to function and perfect your art.
9. 2D Animation Explainer Video
In contrast to whiteboard, 2D animations tell brand stories in a memorable fashion. Being more noticeable, catchy, hence more effective, businesses and production companies are adopting this means to advertise and demonstrate services and products to prospects and existing customers.
You'll also relish in the statistics that about 50% of adverts and campaigns on the internet are 2D animated (popular recently is campaigns/awareness on Covid19). Like W/EV, you may get equipped with expertise skills online but would also require software/applications or /tools to operate and perfect your art.
10. Email marketing EM
Some of you got here through the email after having subscribed to our list ago. EM entails sending bulk electronic mail to a follower base or prospects. For service or/product-based business, email is one effective way of reaching out to the customer base, as the majority of people tend to treat their email as something personal. By far, this makes the art of email marketing far-reaching, more so, an effective means a business or personal brand can make for, to build a long-lasting relationship with their customers/followers base.
However, email marketing revolves around content and would require you to have a business or be known for something (blogger, social media influencer, personal brand). But then, you may also choose to be the technical go-to that manages email marketing for these businesses/ individuals.
If you're managing email marketing for business, you may be required to get involved with content/creative (as a whole), as well as technicalities involved in the usage of bulk email tools. As for email tools, there's a number of options you can select from such as MS Outlook, MailChimp, sender, mailerlite, getresponse, others. There's an abundance of resources available online to intimate you with these tools, but then the platforms are simple to work on.
But email marketing also requires strategies on getting a relevant subscriber base/audience (and in good number). In case you are managing email marketing, your sponsor may be supportive/or determine lead magnet.
11. Course/content review CCR
Has to do with content reviewing, especially educational and highly formal content, ensuring they meet the required standard and specification.
Businesses and organizations are ever in need of experienced individuals and content experts, but rich content is a rich business for those who have mastered the art., as and are ready to pay them for detecting any inconsistency in their material. So if you know you have the experience and a mental picture of how some courses are supposed to be, you can just look for some reviewing website on the internet and start making money, you may not even have to learn from someone after all experience is the best teacher.
12. Social Media Branding (SMB)
Knowing that branding is how you make your customers feel, social media branding is a way to make a good impression of your brand, presenting your cause in a memorable fashion to members of the Internet community -even while coming across your services for the first time.
Branding social media actually takes a lot in terms of creativity (as a whole -content, graphics, messages).
13. Ecommerce
Simply, e-commerce also called electronic commerce entails selling goods and services using the internet. eCommerce is simply a ground for physical product/goods seller to sell online, using internet platforms such as social media, marketplace, mobile app, third-party eCommerce platforms, or your website. Ecommerce stores virtually retail physical goods that meet the physical needs of the web surfer/internet community. To run eCommerce, you can set up a website, social media pages, or leverage on third-party platforms (like Jumia and Konga). However, you may need to master the art of digital marketing, to enhance sales. Also, the part of logistics/delivery, which dispatches your offers to the end customers. What more? You don't even need a physical/retail store to run a successful eCommerce business.
14. Dropshipping
Dropshipping is a brach of e-commerce that leverages third-party stores/platforms; enabling you to sell products you don't actually own or retailed. For this eCommerce business model, you -create your own online store and promote other business's products and add your own jara to the product actual price. When a customer placed orders on your store, you forward the customer details to your retail contact who then ships orders to customers' destinations. Meanwhile, you can easily leverage on platforms that make for Dropshipping automation; they include Shopify, Aliexpress, Dropify, others.
15. Sales letter/ Sales copy writing
Sales copy is a branch of copy writing for commercial purpose advertisements. As a sales copy writer, you are to be creative with strategies that win prospect's emotions to the side of your offer(s). This may take you studying the industry (in the scope) and its consumer behaviour's, but you may also have to learn or horn your sales copy writing skills while also keeping yourself abreast of the industry.
16. Content management system -CMS
The content management system is a software application that is used to manage digital content and can be used for enterprise content management and web content management. Assorted CMS is being developed daily and the more you can master a system, the more valuable you become to the industry in which the solution applies. There's a number of CMS out there, and you may have to specialize. Picking your area of specialization could be based on your interest or how lucrative *winks
17. Software development SD
A top/trendy skill; software developers develop software/applications that meet specific needs of our world; life and business. SD is like a digital solution-based business that businesses and the general public are looking to buy into, as it always solves certain problems or needs. This is why it's of great value; Software development makes for software applications that can perform specific tasks or solve various problems. Recall problem solving is one of the greatest means of making money in this present time.
So, if you're thinking of making a career out of software development, you can be sure you're thinking in the right direction. You can start off by learning coding/software application development from educational dedicated online platforms like Udemy and Coursera.
18. Customer Retention Management (CRM)
We all love to have returning customers. CRM is a way of managing the customer experience and satisfaction efforts with the aim of keeping acquired customers for as long as possible. The success of many businesses is tied to costumers/users, and so, intentional CRM ensures the continuity and success of any business. This is why businesses would pay any amount to experts who can help retain customers. CRM requires techniques, strategies, and experience, but you may also start off with available online courses on platforms like Coursera.
19. Online Coaching and Consultancy OCC
OCC makes for virtually meeting with experts (over the internet).
Although you must be a person of value in a field of life/career, as a coach, your subjects gain knowledge (from you) over the internet from anywhere in the world. Yours is to serve and make money selling advice and knowledge. The internet has almost bridged every gap; going are the days when consultancy services are only based on a physical appointment basis.

Now what? There's a lot of people out there who need experts advice and guidance, and ready to pay for it. What knowledge do you have that you can share/sell out and get paid in return?
20. Other digital ad skills
You may get familiar with the following
Native advertising:
A type of content/platform/audience targeted advertisement. In many cases, native ads may manifest as a video, article, or editorial.
Pop up advertising:
A form of advertising on the world wide web by which graphical interface display area that suddenly appears in the foreground of the visual interface. This is a very good and effective advertising alternative but may require a little bit of coding/website development skills.
21. Traffic mastermind
Sales funnel mastery: This is a way of connecting with clients, providing value, building trust and credibility, and also delivering the right messages at the right time. Just so you know mastering the art of sales funnel would enhance your business/brand, while also you can offer the service professionally to other businesses for a hand on this.
22. Video Sales Letter Creation VSLC
Entails creating videos about a product/services; something enticing and ultimately convincing enough to make potential buyers take a buying decision of the product/services you're projecting. VSLC actually requires a lot of creativity, from sales copy writing to graphical display. Moreover, you may not be able to oversee everything/project, unless you've built in-demand capacity.
In the absence of that, you may want to work with a team.
23. Web development
Web development never gets old with the daily increase in the rate of web usage.
As a web developer, be ready to take on web projects ranging from the single static pages of plain text to complex web-based applications, highly functional websites, electronic businesses, and social network services. Due to web dev technicalities, the niche is not saturated. There's always a need for web developers, as businesses scramble to make something happen on the web. You can get equipped as a web developer online; there's a lot of platforms dedicated to teaching students who may want to enroll and guess what, you may not need to pay a dime for this. You can check code.org, udemy, sololearn, Coursera among others.
FOLLOW ON INSTAGRAM
Catch up with the latest TIPS in real-time. Raise your brand and marketing game
Read comments or make a comment
DOWNLOAD OUR WHATSAPP MARKETING GUIDE
Turn WhatsApp to money making channel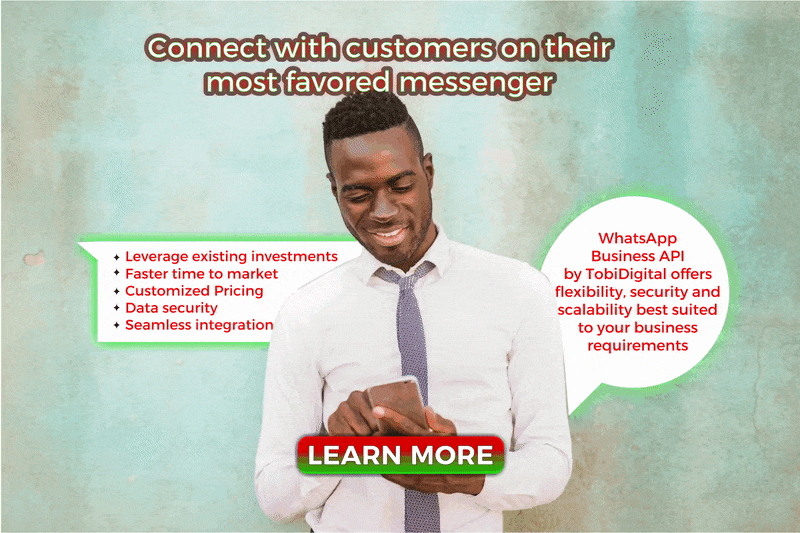 Search Google or type a URL
WHAT YOU CAN READ NEXT
VIEW ALL
TikTok is the 4th most popular social media platform in the world, behind Facebook, YouTube, an...