Glo TV App Review: All you need to know about the Glo TV App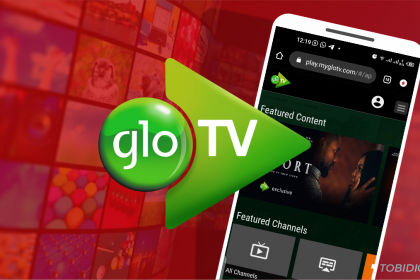 Mobile streaming content is becoming a trend, as Nigeria telecommunication company, Globacom has now joined the trend by launching its mobile TV service, Glo TV, in August 2021. The GloTV is poised to offer premium all-round entertainment, news, and sports content, and promises to become Nigeria's one-stop entertainment destination. With Glo TV, you can catch up with unlimited films, live TV channels, and many more anytime anywhere, simply by streaming on your mobile phone, tablet, and other android/iOS device.
How to register for Glo TV
To be eligible to enjoy Glo TV, you must be a Globacom Network subscriber. This means you must have an active glo sim/line to start with.
To register for GloTV, you may sign up from the web portal (www.myglotv.com) or signup directly through the app. If you are signing up from the web, you will still need to download the app to enjoy the Glo TV content.
To download the Glo TV app, android users can download the apk on PlayStore via this link. Apple/ IOS users can download via Apple Store – through this link.
To sign up, you will be required to input your Glo telephone number (preferably your active glo line, as you will receive/or have to input an OTP sent to your Glo line) to finalise your registration.
Is Glo TV free?
For now, yes. Glo claims subscribers can enjoy a free subscription on the tv app till 30th September 2021.
What type of content can I watch on Glo TV?
Glo TV offers general entertainment, movies, music and sports, kids, news and documentary, adventure, lifestyles, and faith content. As for Live TV, you can access the content in categories.
What type of movies can I watch on Glo TV?
The Glo Tv features movie entertainment in the following categories
Glo Tv Exclusives
Nollywood drama
Nollywood family
Hollywwod Classics
Yoruba drama
Yoruba Family
Hausa Drama
Hausa \family
Action (movie)
Adventure.
There are also Live TV channels with a focus on movie content.
Can I watch Live TV channels on my Glo tv app?
Yes! Glo TV features Live TV channels in categories such as Music, Movies and Series, Sports, Kids, News and documentaries, General Entertainment, Faith, and Lifestyle; some you may already be familiar with from cable TV such as DStv, Gotv, Startime among others. At the moment, over 40 channels are currently listed on the Glo Tv app. The list may likely expand as the business expands, you know 😉
what TV channels can I watch on the Glo tv app
Here's a list of the Glo TV channels currently available on the Glo TV app.
Note; this list may be updated from time to time.
Movies and Series category
African Movies channel Series (AMC series)
Prime Time Drama
African Movies Channel (AMC Movies)
Zee Cinema.
Thrillerz
Movies News
Comfy TV
Cowboy Theater
ReadySetAction
Real Family TV
Series Zone
Short Film TV
Talent Wazobia
Dimension Sci-Fi
Mythos
Music category
Sports Category
Football TV
Talent Sport
W-Sport
XCorps
Kids Category
Battery Pop
Kid Central
Lollykids
Youth Success Network
Kartoon Circus
News and Documentary Category
General Entertainment Category
Faith and Lifestyle Category
Cut-Up N Cook
Cocktail TV
Faith TV
iSheTV
Praise TV
Praise TV
Providence
Slap Tech
X2D
Can I stream Glo TV content on Smart TV?
At the moment, Glo is yet to roll out the TV app for Smart TV, but you can stream from TV web OS through the url>> play.myglotv.com. You can equally stream on your computer; laptop or desktop.
Here's how to stream the Glo TV on your smart TV.
Can I cast Glo TV content from mobile app to (Smart) TV?
You may be unable to cast content showing on your glo tv mobile app to your smart television. The app is programmed in such a way your smart TV goes blank when you try casting from your mobile app.
Can I take a screenshot/or record from my Glo TV App
No, not at the moment. Taking screenshots isn't allowed by the app, as the Glo TV app is probably patented with ScreenShield technology which prevents screen recording. By this, you may be unable to record video content or take still snapshots from the mobile app.
Glo Tv data bundle offer
Glo also offers exclusive data bundle with which you can use to stream their glotv/app. For now, you can get 500MB data for just 150 Naira to stream on the app. Validity is 3 days. The glo data bundles are available on the mobile app menu.
Glo Tv app Reviews
The Glo TV app is currently gathering momentum, but a glimpse on the app interphase indicates it could be a big thing in the making. The app UI/UX is clean, simple, and navigating the app is a slick experience. The major downside could be the restriction they had in casting to TV, as some users (like me) are getting to prefer watching streaming content on TV instead. Although the app is still in its beta days, as we can anticipate the app developers taking feedback from users and may likely improve the app based on users' recommendations/preferences.
From the general viewpoint, here are some snapshots of users' reviews from Google PlayStore.