How to sell on Habarigt and every other thing you need to know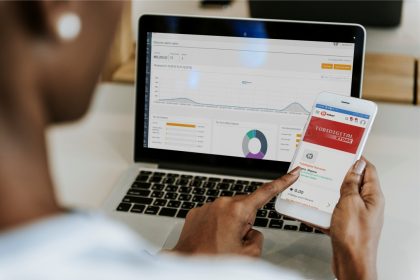 Habarigt is one of the earliest comers into the space of e-commerce business among Nigerian banks incorporating the eCommerce business.
Habari, by GTBank, is a digital platform that practically connects its users to everything that really matters to them; from music and multimedia content that helps relaxation and learning, to shopping needs being delivered directly where you want them through a network of thousands of small businesses that offer a large variety of products and services.
Habari also connects users to the people they care about and empowers them to make the most of every connection with features such as the ability to share bills or shake your phone to find friends. You can also send and receive money or pay utility bills and subscriptions on Habari. GTB claims it's their digital way of serving your every need.
For you as a eCommerce businessperson or a prospect, you may have been getting on the trend at which marketplaces now compete to gain attention of online retail business merchants/sellers. Habari now provides an alternative platform and opportunity to help retail businesses expand visibility and meet their goals. Habari claims its platform is "carefully structured to help you make the most of your time and resources and will fortify you with the tools, support, and exposure required to help your business grow viably".
How to join Habarigt as a seller
To become a seller/vendor on the Habarigt;
Merchant registration
Input your details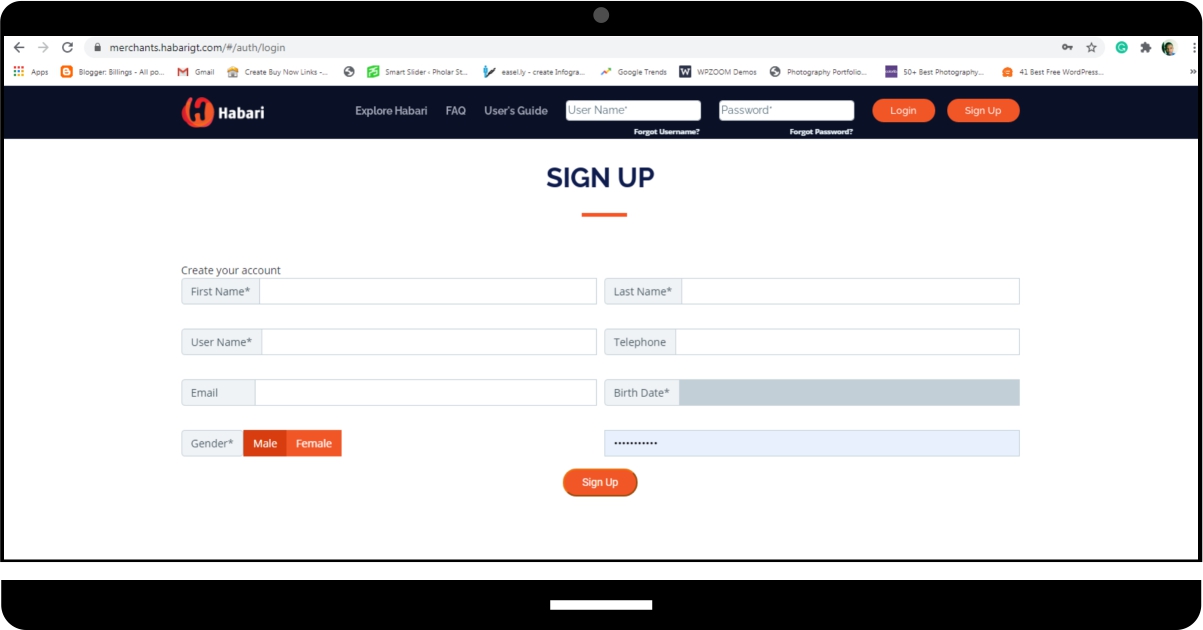 You will have to register with information such as
First Name*

Last Name*

User Name*

Email

Birth Date*
Log in
Explore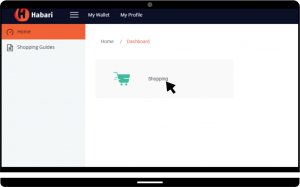 Click /or go to Shopping
This is what the Habari dashboard looks like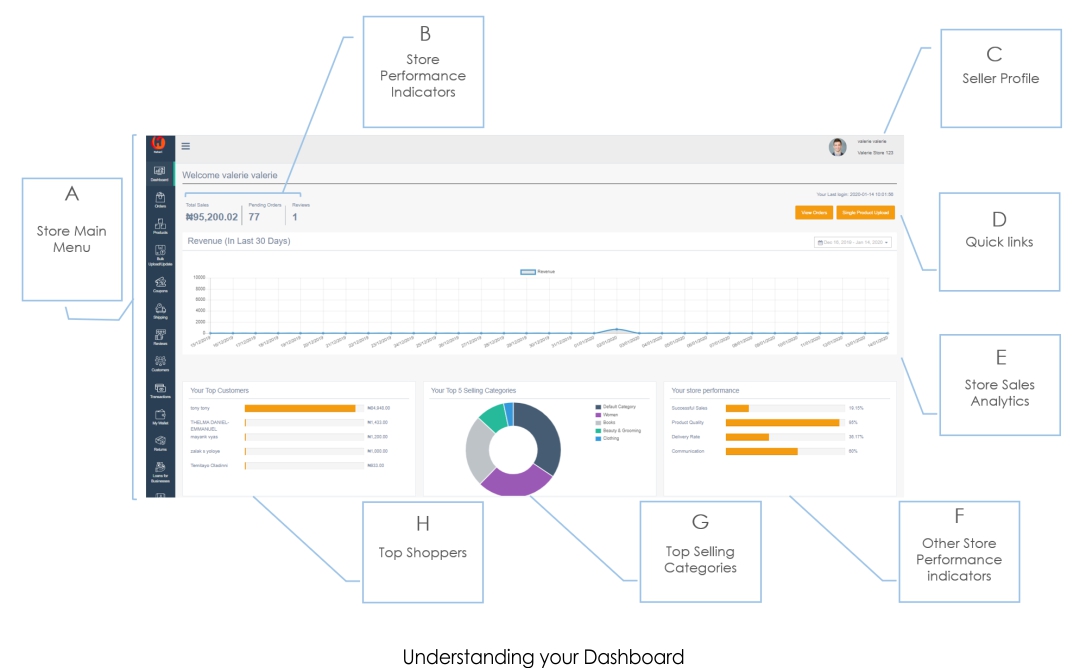 The menu section on the left of your screen displays all the functions/features on your storefront.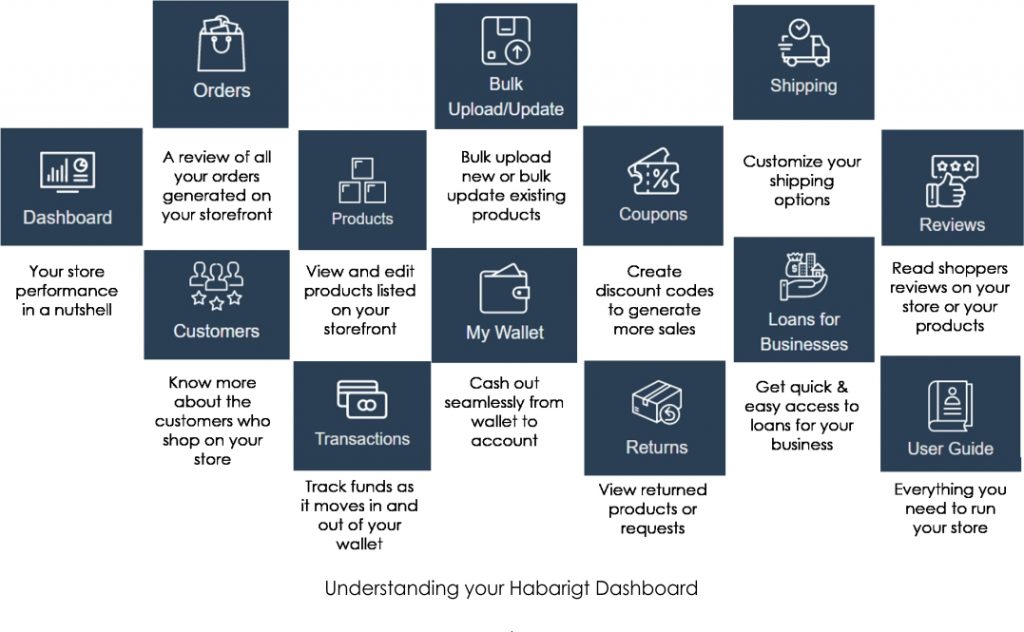 From your dashboard, you can access different features and tools to manage your profile, products, orders, operations, payments among others.
It's easy to identify trends and patterns in sales activities for a period of up to 6 months.
Habari also provides you with guides or insights into your business; an in-depth analysis of your product segmentation and what shoppers are interested in. The pictorial representation shows a lifetime analysis (i.e. since your store began operation on Habari marketplace) of the products on your storefront based on the global marketplace directory.
You can also reward customers better when you know just how much they spend to support you. Armed with this information, you can begin to customize rewards for your favourite shoppers.
Download this guide to get more understanding of the Habarigt dashboard
Fulfilling your order on Habarigt
When an order is placed on your store with Habarigt, you will receive an order notification with details of the transaction via email.
Thereon you can go to your Habri store dashboard to manage the order by Packed, Ready for Pick Up, Dispatched, Picked Up, Delivered and Cancelled. If the mode of delivery selected by the customer is "Customer Pickup", ensure the order is packed properly and securely. Once the order has been picked up by the customer, you are to change the order status to "Confirm Pick Up".
The customer receives an email update on the new status of their order when you update. It is very important merchants update the status of orders at each stage of the fulfilment process.
If the mode of delivery selected by the customer is "Merchant Delivery", ensure the order is packed neatly and afterwards, click Ready to Ship.
Once you have confirmed the delivery of the order by the customer, proceed to click on Delivered. This is the final stage of the order cycle. This is the final stage of the order cycle.
Updating the status of your orders promptly and correctly is the easiest way to increase your integrity rating on the Habari platform. Habari supports proactive merchants with integrity by reviewing how long their funds are kept in escrow to as low as 5 days, as against 14 days!
Habari Partner Delivery
If the delivery option selected by the customer is "Habari Partner Delivery", ensure the order is packaged properly and securely and click on "Ready to Ship". The order status then changes to packed/dispatched.
Habari Partner Delivery (Sendbox) will receive a notification on the order to be picked up and will contact you within 48 hours to arrange pickup. Once the order has been fulfilled successfully, the status of the order is updated to "Delivered" by Habari Partner Delivery. Please refer to the Habari partner delivery guide for more information on how this delivery option works.
Your order delivery is determined by the order category and seller's location, but intrastate orders for orders which are not ready-to-eat/meals and groceries usually take between 2-4 working days while interstate orders take 5-7 working days.
Merchants are advised to abide by this delivery timeline as stiff penalty/sanctions will apply for merchants who default.
Escrow period for orders placed on Habari is 14 days, however, this can be reviewed based on the responsiveness of the merchant and a high order fulfillment rate.
Shipping
As a merchant, Habarigt provides you with a number of shipping options which include:
Habari partner shipping: A shipping option which enables Habari logistics partner to bear the burden of your orders' shipping
Customer pickup shipping: This allows a customer to opt for a pickup at their desired location.
Merchant delivery: This shipping option enables you to bear the responsibility of fulfillment to customers. A seller can choose Within Seller's State option which implies sellers can carry out deliveries to buyers in the same location (State) as his/her business. For example, for a merchant whose business address is in Lagos, the pre-listed cities will be only cities within Lagos state. Outside Seller's State option is applicable where a merchant offers delivery service to areas (states) outside his/her business location.
You may want to download the Habarigt shipping guide for details
Payment
Merchant settlement for sales proceeds is easy with Habari. All you need is to input your bank account details and opt to cash out from your wallet on the seller dashboard. However, before money can be moved from your wallet to your bank account, you MUST have created your six-digit Secure Pin. Your secure pin serves as a security measure to protect your Habari seller account from unauthorized movement of funds.
*Note that funds in your wallet only become available after a standard 14 days when orders have been fulfilled.
You may want to download the Habari payment guide for more
Returns
If customers are not satisfied or have complaints about orders they have received, they have the option to return the ordered item and request a refund within 7 days after receipt of the order. However, you have the choice to approve or decline the return request, albeit with proper reason. If you choose to approve, Habari will automatically refund the full value of the item to the customer.
You may want to learn more on the technicalities of manging your return via this guide
Other Resources
How to upload and manage products on Habari
How to maanage coupon on habarigt
Value-Added Services
Habari also comes with value-added offers for merchants and their customers.
Asides coupons, a merchant may encourage their customers to place order on credit and pay later.
HubCredit is a low-interest rate consumer credit loan that allows shoppers who have their salary accounts with GTBank to make purchases on Habari and pay later. With Hub Credit, a customer/buyer can place order(s) for goods worth up to a million naira, and payback within a period of 12 months or sooner (whichever works for you); though at an interest rate of 21% per annum.
Through GTB, Habarigt provides smart financing options for merchants to build and grow. With Hub Advance, you get the right kind of inventory financing that your business needs to grow.