Abeg App Rebranded To "Pocket by PiggyVest" – PocketApp [Why And What To Expect From The New Social Commerce Platform]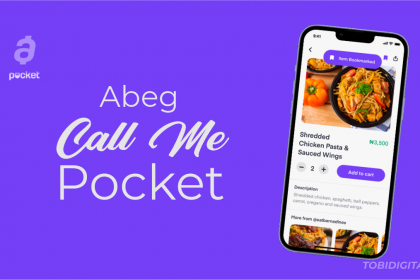 Abeg was rebranded to "Pocket by Piggyvest" (PocketApp) on Monday, 27th of July, 2022.
Abeg was founded by Dare Adekoya, Muheez Akanni, Patricia Adoga, and Eniola Ajayi-Bembe in 2020, (as a fintech platform that supports peer-to-peer mobile payment with a distinct feature of soliciting funds, more or less like the Cash App) before it was acquired by PiggyVest.
The exact date for this acquisition is not yet known (to us, yet), but Dare Adekoya admitted it was acquired before they (Abeg) sponsored the sixth edition of the Big Brother Naija show.
It is rumored to cost as much as $2 million to become a headline sponsor of the Big Brother Show.
Was the investment worth it?
Maybe, maybe not.
Despite the fact that the user-base of the Abeg app skyrocketed from about 20,000 to over 2 million, a lot of users were dissatisfied with the app.
Just as they say about money, "it's not about how much you make, but how much you keep". Abeg was struggling to keep its users.
Some even rumored that Abeg got the sponsorship money from PiggyTech (the parent company of PiggyVest), though Dare Adekoya dismissed this as false. Stating that they had used a portion of the money they raised in a pre-seed round from local investors to sponsor the show.
Whatever the case, a lot of money was spent on promoting the Abeg app, so it was a surprise when the acquisition and rebranding happened (or more correctly, became public knowledge).
Why Did Abeg Rebrand To "Pocket by Piggyvest" (PocketApp)?
It is hard to tell exactly the reason, however, there are many salient points you can garner from the nature of the startup and its acquiring company, and the little insights the executives have left in interviews and social media.
So, let's analyze.
Abeg has over 2million users. And, though they may not be particularly thrilled with the app just yet, Abeg has their contact – email address, phone number, etcetera. So, they can always reach out to them (the 2 million users) with little or no extra advertising cost, anytime.
Abeg still has a lot of fantastic and promising features – like options to pay bills, split bills, send and receive money at zero cost, organize giveaways, take loans, and so on.
The Acquiring Company (PiggyVest), is one of the biggest saving platforms in Nigeria and one of the most valuable fintech companies in Nigeria. However, they lack all the many features Abeg boasts of.
One major irritation of users is their struggle to verify their Abeg accounts and the hassle of founding and withdrawing funds.
From the above points, it can be seen that by acquiring Abeg, PiggyVest can dramatically improve the quality and range of service it provides its users, whilst Abeg can stop worrying about the verification and funding issues since PiggyVest has already figured that out.
Besides, with PiggyVest giving the option of saving to grow in interest, and Abeg giving the functionality of transacting flexibly, in ways that are not available on traditional bank apps, and at zero cost, they may be the next big thing for Nigeria, and soon, Africa.
The above conclusion doesn't just make sense, it appears to be the actual plan with PocketApp Nigeria.
What Is "Pocket by Piggyvest" (PocketApp)?
When the news about PiggyVest acquiring Abeg and rebranding it to PocketApp emerged, another important news followed, which was that "PocketApp received an Approval In Principle – dated April 25, 2022 – from the Central Bank of Nigeria for a license application to operate as a Mobile Money company". (Receiving an AIP is an important step toward final approval from the CBN).
But, what for?
It appears that PocketApp wouldn't just be another Npayment gateway or saving platform, but an entire Social Commerce platform (S-commerce)
"Pocket by Piggyvest" (PocketApp) As An S-commerce Platform
If there is one thing any business owner who uses the internet knows, it is that it is one thing to be online, and another to be found and patronized. (Interestingly, PiggyTech also owns a subsidiary called Patronized or "Abeg for Business", designed for business owners to receive payments with ease).
Anyway, most businesses opt for building a social media following first, then directing them to their e-commerce store to buy. But with s-commerce, followers/customers can buy directly on the social media platform.
(Some popular brands that have adopted this model include Instagram, Facebook, Amazon Live, Pinterest, Youtube, etcetera).
PocketApp aims to join the league.
By reaching out, and inviting its millions of customers, from PiggyVest and Abeg, PocketApp can become a platform where people hang out, create content, and engage with brands or businesses they love. All the while transacting using the payment infrastructure made available by PiggyTech, and its acquired subsidiaries.
Conclusion: The Future Of Abeg And The PocketApp
We can say, PocketApp (a rebrand of Abeg) is PiggyTechs' attempt to monopolize the online commerce, saving, and investing market in Nigeria for good.
PocketApp is also the first social commerce platform to gain CBN AIP to drive digital payments and inclusion for micro-entrepreneurs in Nigeria.
And as the Social Commerce market in Nigeria (estimatedly) marches on to $23.8 billion by 2028, PiggyTech is set to take the lion's share of it.
Odunayo Eweniyi, co-founder and COO of Piggytech Global Limited had also disclosed that PiggyTech aims to reach 10 million users in Nigeria within a year and even expand to other countries.
In a sense, the acquisition is more of an expansion, than the death of Abeg.