7 Best AI Image Generators In 2023 [With Stunning Image Outputs]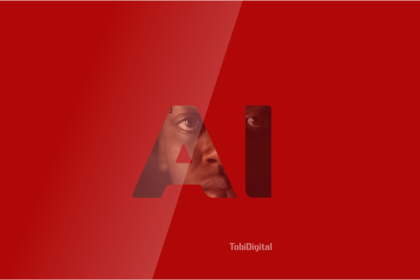 I still remember how I felt seeing the first AI-generated image back in 2022. As an artist, it felt surreal – almost like a spiritual elation. It was beautiful, alien, and mesmerising all at once.
But it was also easily distinguishable from human art. For a start the eyes and fingers were a mess, the colours were shouty, and the entire images were either blurry or pixelated, and overall low quality. In many cases, the AI failed to produce what was described.
Fast forward to 2023, it's now challenging to differentiate images generated by Ai image generators, and those which are real.
Before we get into the 7 best AI image generators in 2023, I'll love to briefly highlight what you can do with the images they generate.
The 7 Best AI Image Generators In 2023
AI image generators are programs that use Artificial Intelligence to make pictures based on what you describe in texts (aka Prompts).
And, from my research, the top 7 Ai image generators that produce the best results as of 2023 are DALL-E 2, StabbleDiffusion, Bing image creator, Photosonic, Shutterstock image creator, Midjourney, and Adobe Firefly.
The criteria for this are simply the quality of images produced, as well as the malleability the tool offers. However, there is no particular order to this list, even though Midjourney produces the best quality/detailed images, whilst Adobe Firefly gives the most editing/customization options, however, they are both paid tools (which might be a downside for many people just looking to explore).
Using AI image generators is simple and fun, and anyone can try them out. Nevertheless, as with every other tool, it takes an expert to get the most out of it.
To put our top 7 image generators to the test, I will put a version of the same prompt into all of them, in this case, "An African boy, with afro nappy hair, close up, portrait, very detailed, cinematic lighting".
DALL-E 2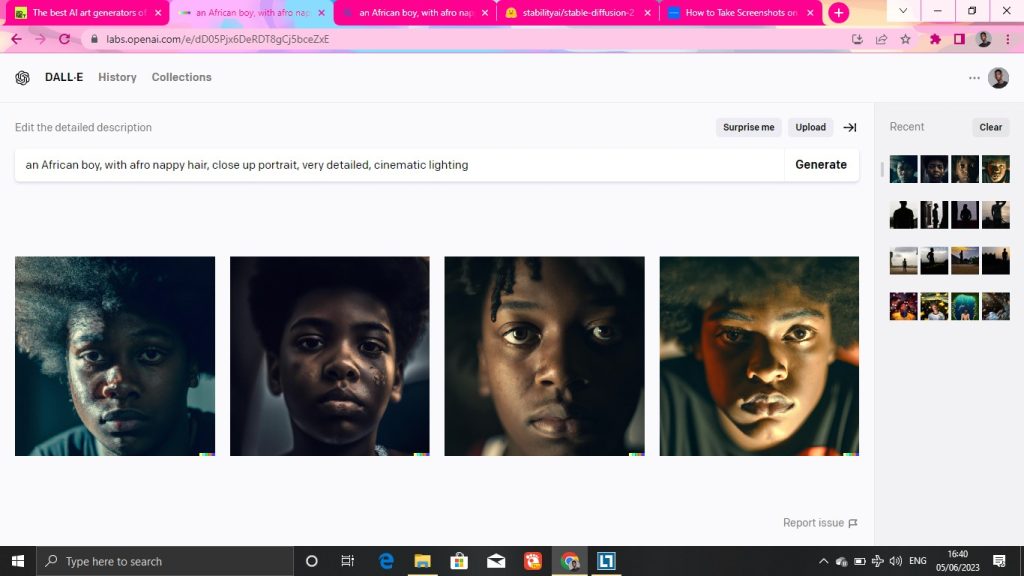 DALL-E 2 was released by OpenAI, the AI research company behind ChatGPT, in April 2022. It is powered by a large language model (LLM) called CLIP.
DALL-E 2 is one of the most popular AI art generators on the market.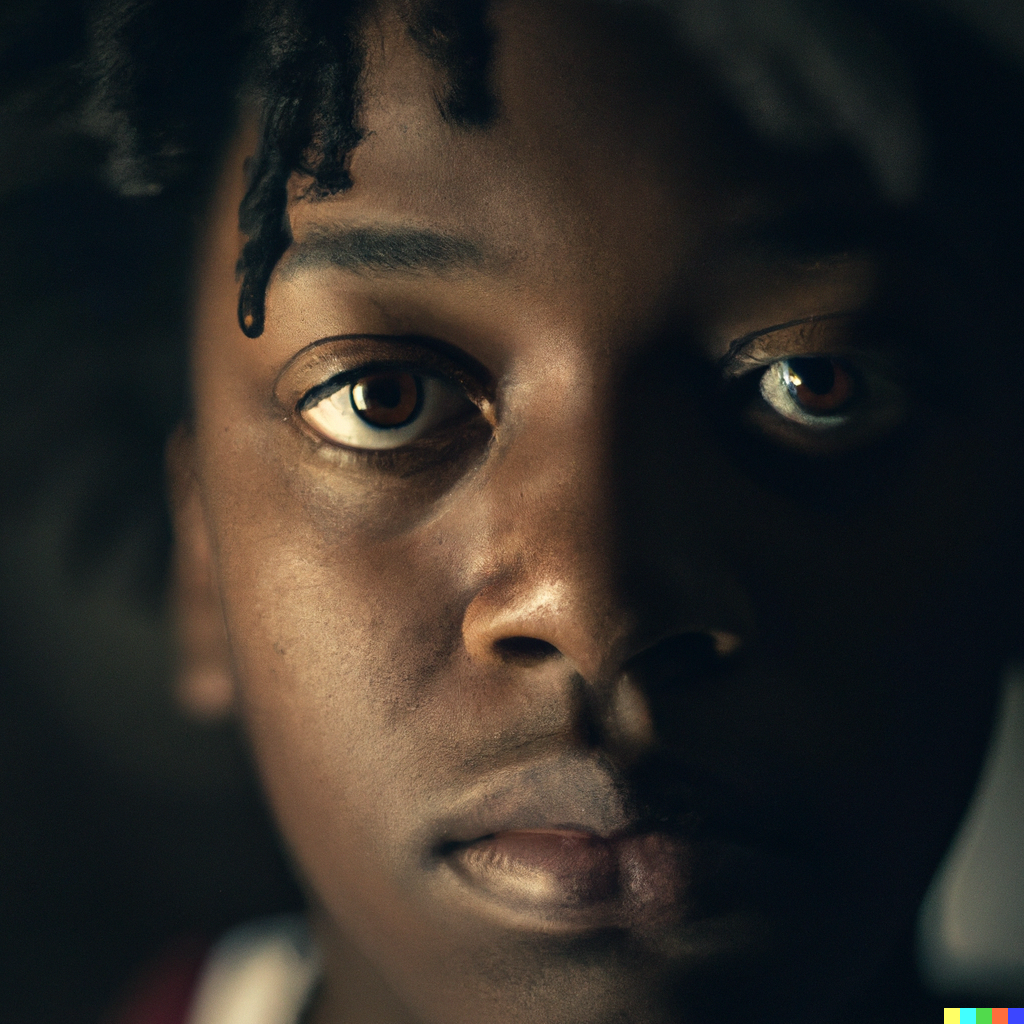 DALL-E 2 also comes with an image editor, which allows users to add additional generated frames to an image, whether it was generated by DALL·E 2 or uploaded by the user. This enables users to create larger works of AI art. The image editor also includes an eraser, which can be used to remove parts of an image and replace them with AI-generated elements.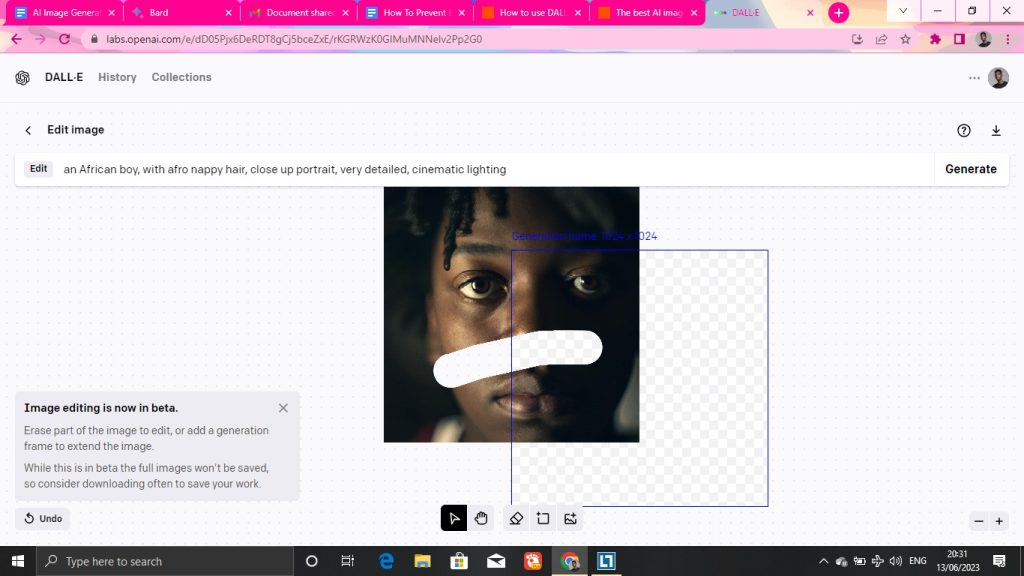 Users, after signing up, are given 50 free credits, and another 15 free credits that replenish at the end of every month.
StableDiffusion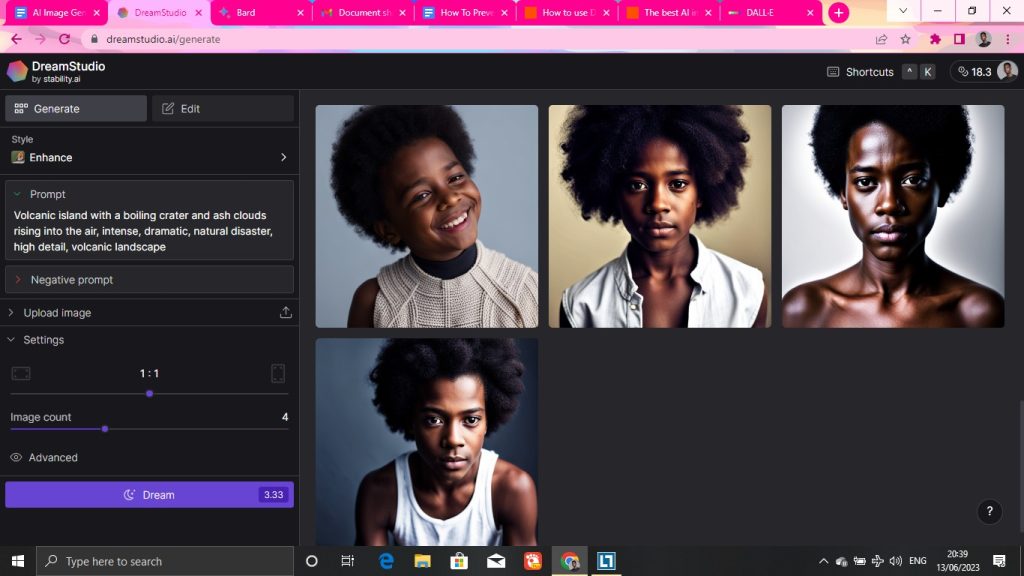 Stable Diffusion was released by Stability AI alongside a number of academic and non-profit researchers, in August 2022.
However, unlike other deep learning text-to-image models, Stable Diffusion is not confined to the cloud — you can run it on your PC.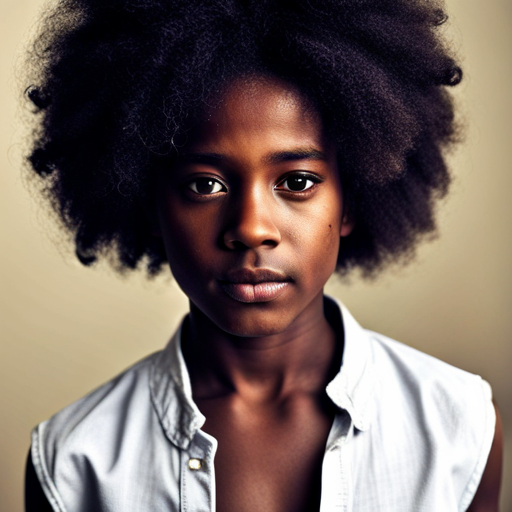 Though there is also a range of cloud services like DreamStudio, StableDiffusionWeb, HuggingFace, etc, which give you the ability to use Stable Diffusion without installing it yourself, although they aren't necessarily affiliated with the developers, and you have to sometimes wait for long queues.
And, just like DALL-E 2, using services like DreamStudio gives you the ability to edit images generated using StableDiffusion. You can erase, change style, and carry out other editing.
StableDIffusion is completely free and you do not need to sign up to start using it.
Bing Image Creator
Bing's Image Creator was released by Microsoft in March 2023. Though it is powered by a more advanced version of the DALL-E, by OpenAI.
However, Bing Image Creator doesn't offer the option to edit or customize the images generated.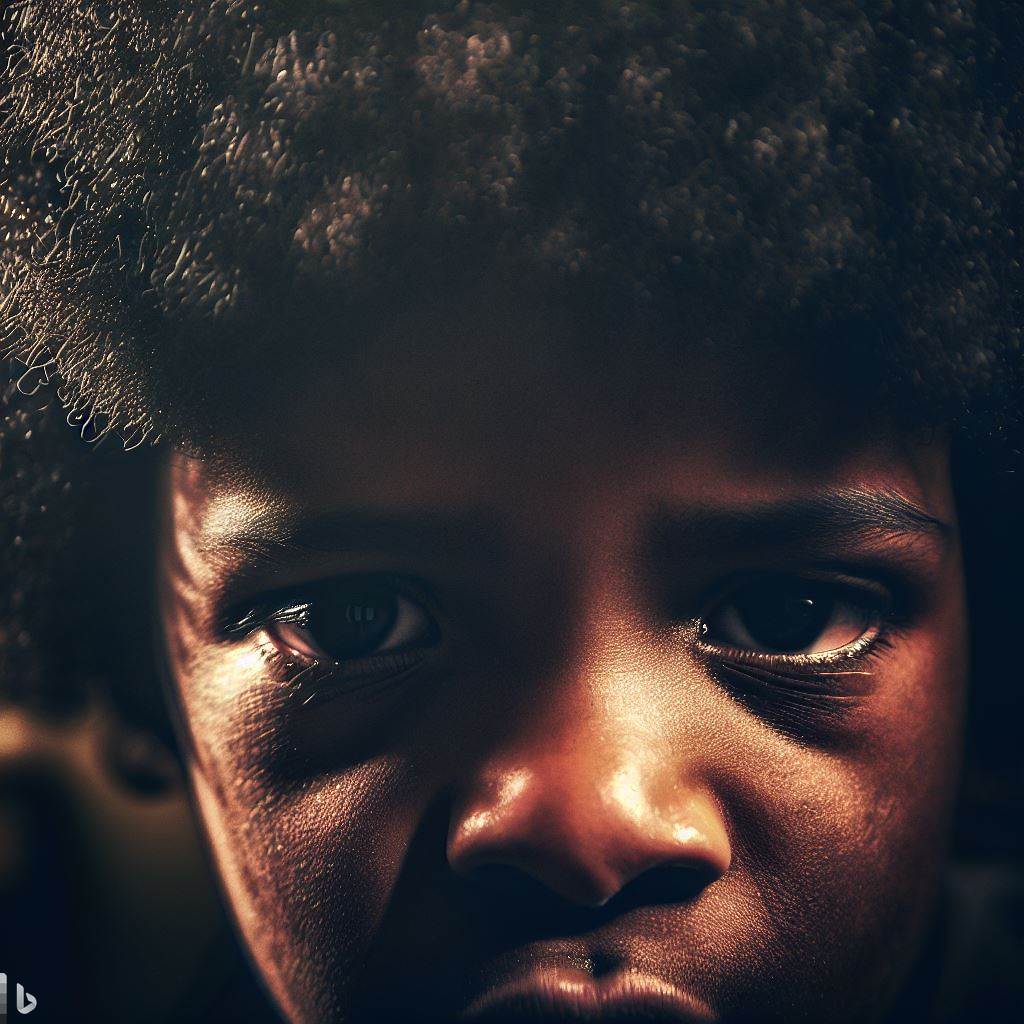 It is free to use. All you need to do to access the image generator is visit the website using a Microsoft Web browser and sign in with a Microsoft account. You can also download the Bing Mobile App from the App Store or Play Store.
Photosonic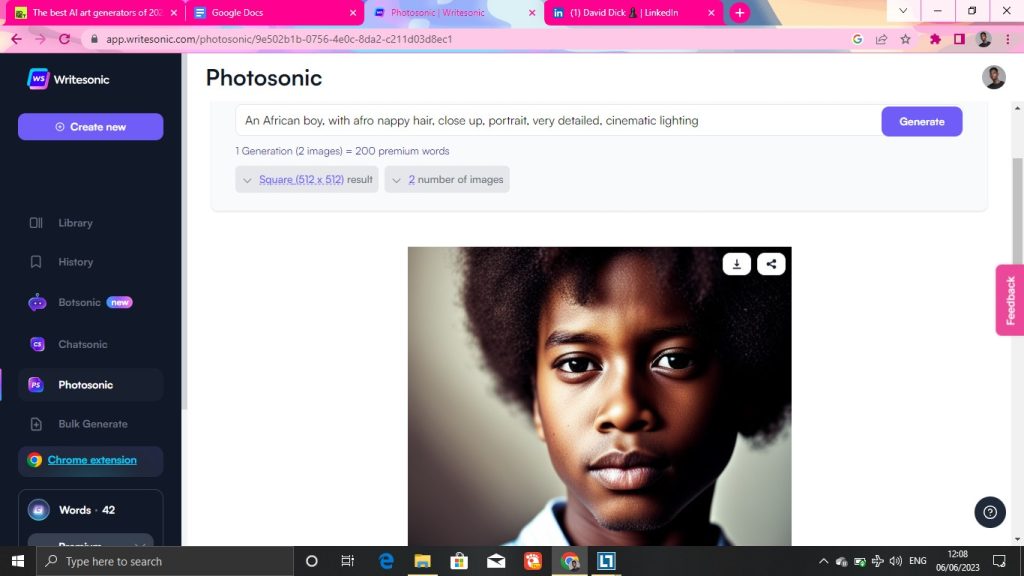 PhotoSonic was released by Writesonic, an AI writing software, in March 2023. It is powered by Writesonic's AI image generator.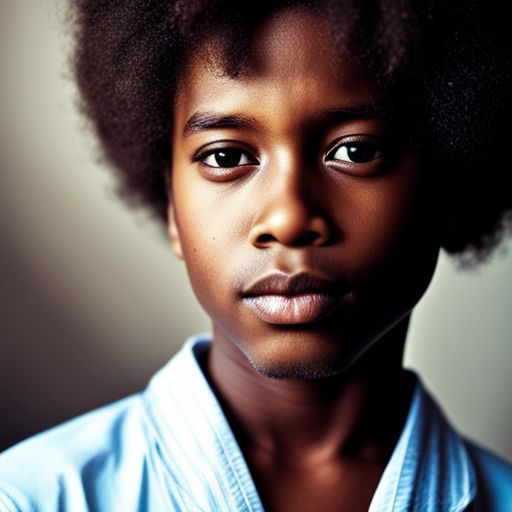 PhotoSonic comes with a free trial.
Shutterstock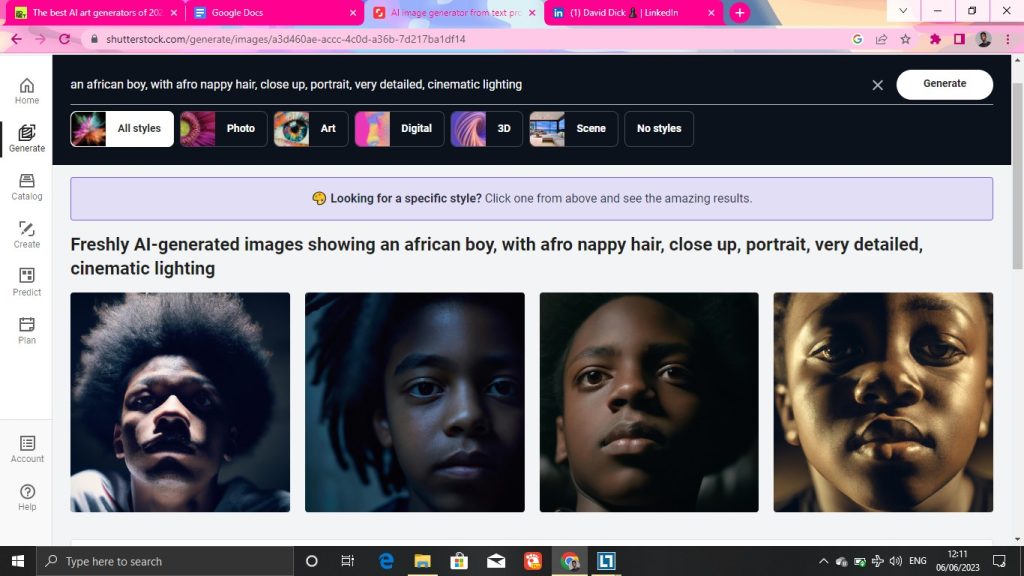 Shutterstock AI image generator was released by Shutterstock in January 2023. However, it is powered by DALL-E 2 – which was developed by Open-AI.
Interestingly, you can not download the generated images from Shutterstock unless you have an active subscription with them. However, Shutterstock offers a lot of customization and editing functionality. For example, you can make iterations of the same image, and even add extra frames/dimensions to the images.
Shutterstock subscribers can use the image generation tool alongside other Shutterstock tools to create even more creative and engaging content.
Midjourney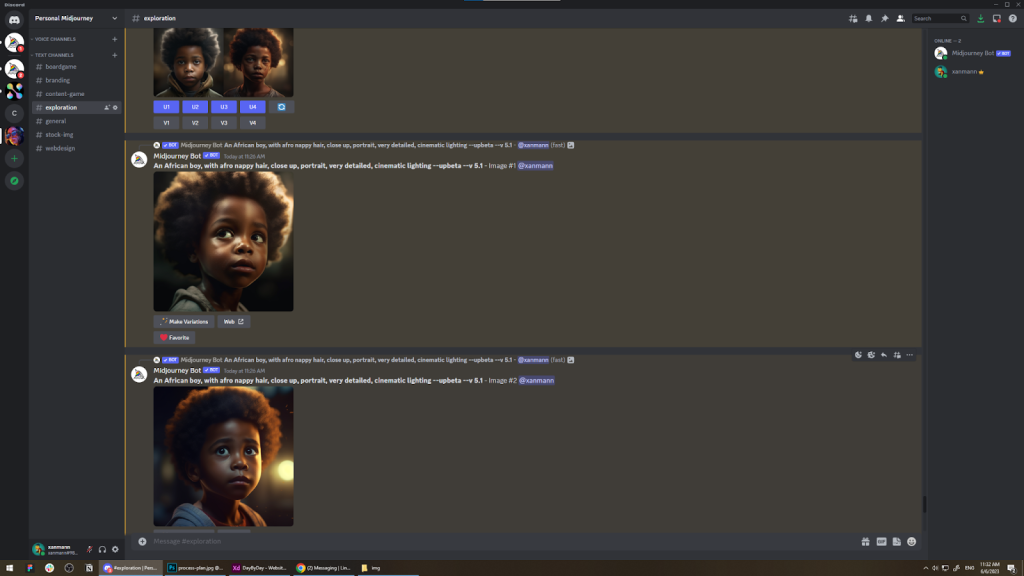 Midjourney was released in beta in July 2022. It is powered by a large language model (LLM) called Imagen which was developed by Google AI.
Midjourney, as of the moment, can only be accessed and used via Discord. This means you must Create a Discord account, and Join the Midjourney channel to start prompting and generating images (within the channel). This also means your images will, by default, be viewable by the public (i.e. anyone in the Discord Channel).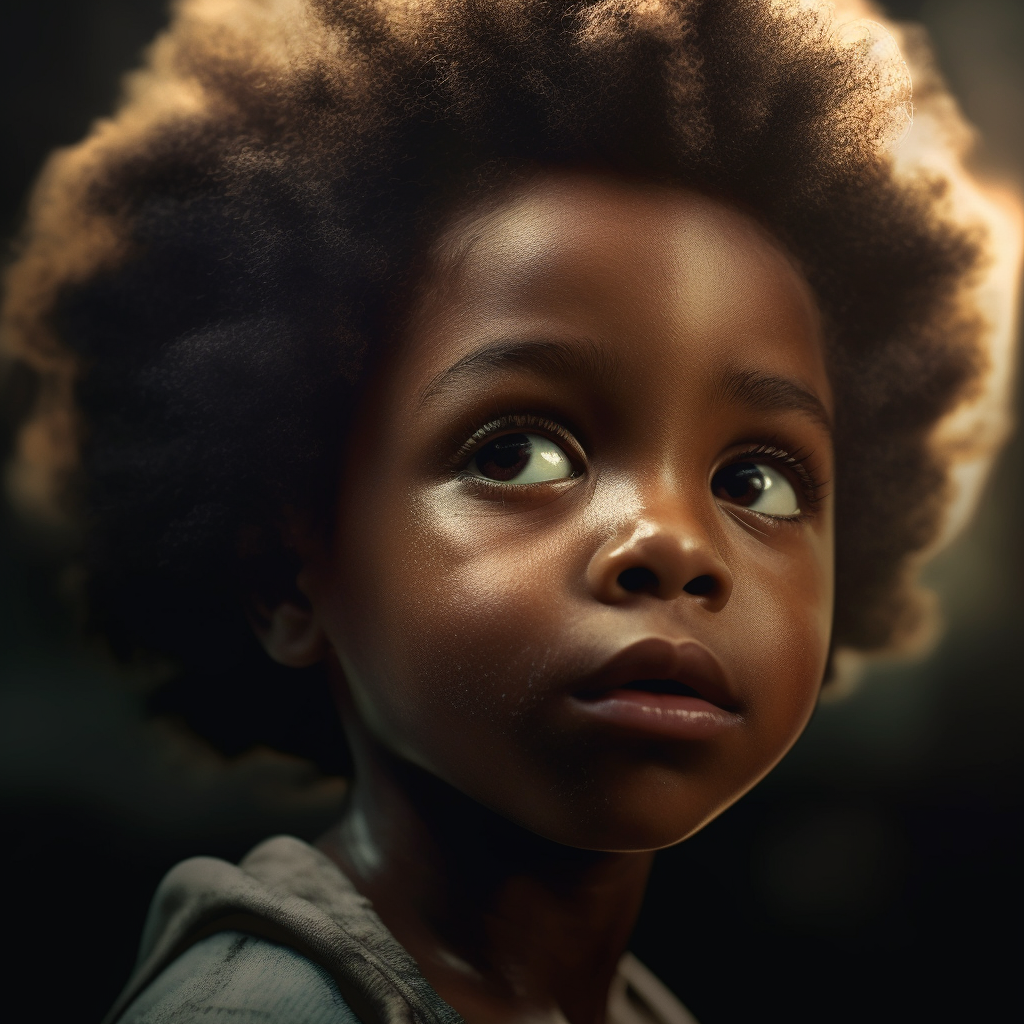 Mid journey also has a Zoom Out option. The Zoom Out option allows you to expand the boundaries of an upscaled image without changing the original image. The newly expanded area will be filled in with new content that is generated based on the prompt and the original image.
Although Midjourney offers a free trial, it has a monthly subscription plan.
Midjourney was the first AI image generator I encountered, and it is still the best I have seen to date. The output of Midjourney is so realistic and crystal clear that it is becoming hard to distinguish them from real photos. In fact, Midjourney has produced award-winning art and is still improving.
Adobe Firefly
Adobe Firefly was released in March 2023. It is powered by Adobe Sensei – which is Adobe's artificial Intelligence (AI), and a machine learning (ML) technology.
Adobe FIrefly is cloud-based, and still in the beta phase, hence not accessible to everyone. I have requested access to be a beta tester, but I haven't gotten any response yet. Hence, I couldn't try out the prompt on it.
However, it is important to keep in mind that when fully released, it will become part of the Adobe Creative Cloud, and those who are already users/subscribers will be able to integrate it into their workflow.
How To Write Prompts That Generate The Best Results From AI Image Generators
To get the most out of AI image generators, you need to be very specific and detailed in your descriptions, a process now popularly called "Prompting".
Some details you may have to consider when prompting includes the Subject, Adjective, Verb, Object, Personality, Style, Environment, and in some cases, Dimensions.
For example, consider the prompt/description: "Smiling Indian Boy with arms raised, in the middle of a busy market, in the style of Michelangelo".
From this description, we can see the subject (the Indian boy), the adjective (smiling), the Action/Verb (arms raised), the environment (middle of a busy market), and the style of art (Michelangelo).
When we put the above prompt into the Bing image creator (which we will talk about shortly), we get the output below.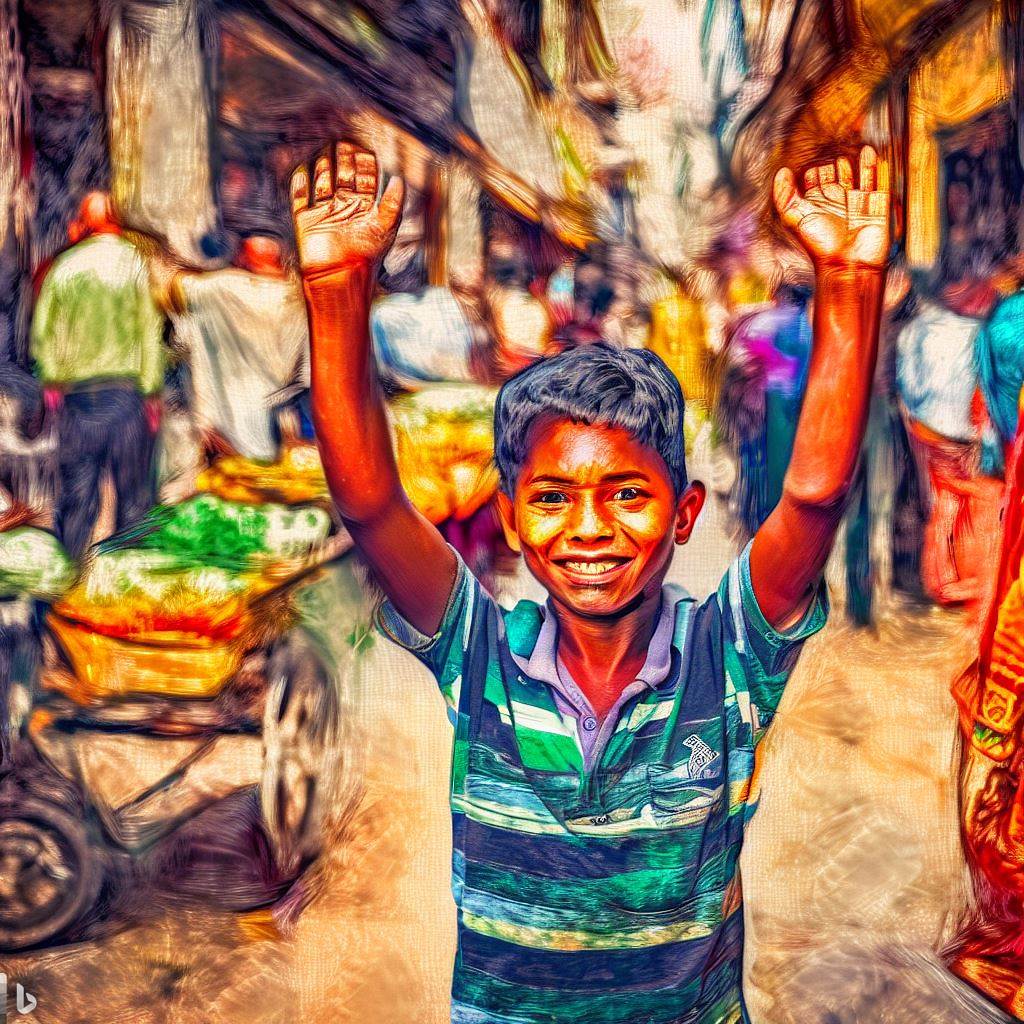 It is also important to avoid adding too many parameters as it can "confuse" the AI, and lead to a mess.
For example, when I input the prompt, "A smiling Asian girl with fangs, in the middle of a Lagos market buying smoked fish, with green birds flying over the sky, very detailed in the style of van gogh, hyper-realistic, wide shot, bright lighting", we get the image below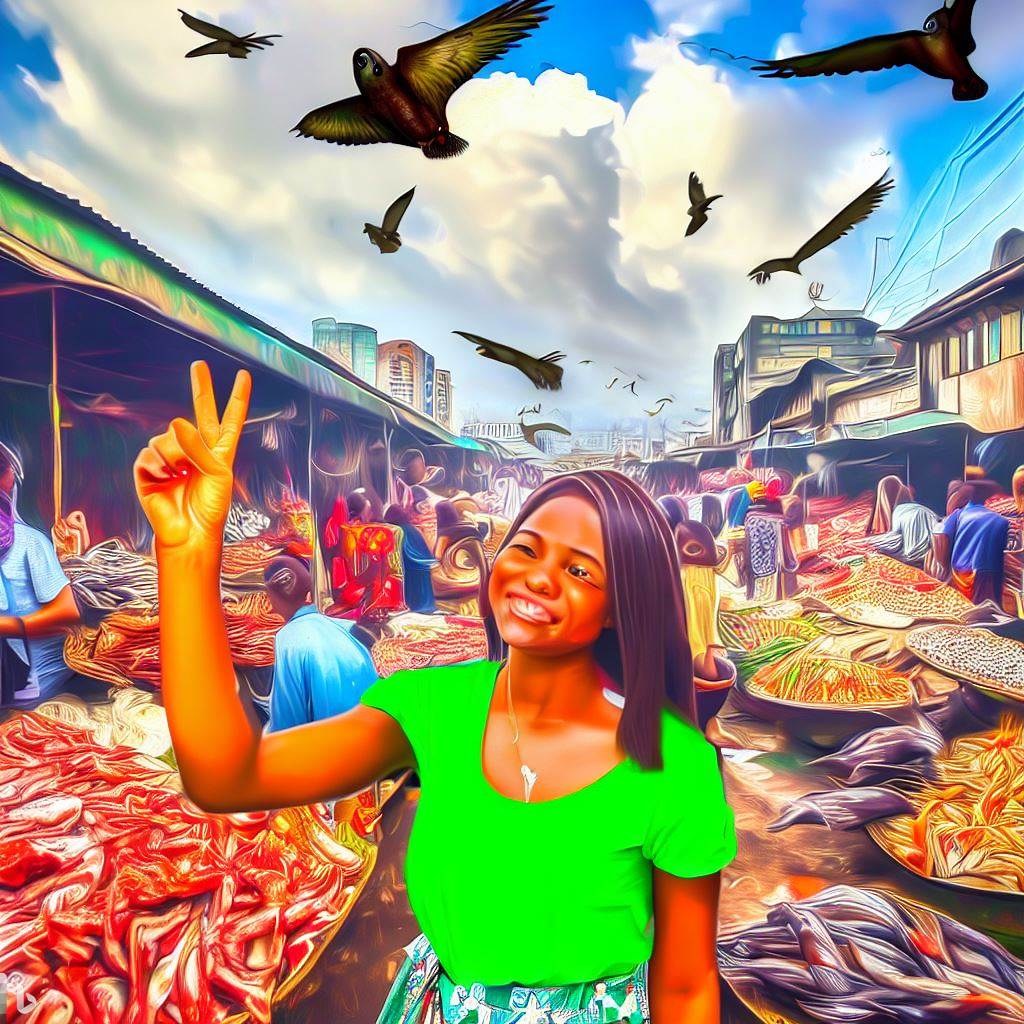 I'm impressed it did this well. However, it usually produces worse results when you prompt this way. The moral of the story is don't confuse the AI. You can try describing one object/subject with rich details but don't try painting an entire scenery, at least, for now.
Uses of AI Image Generators: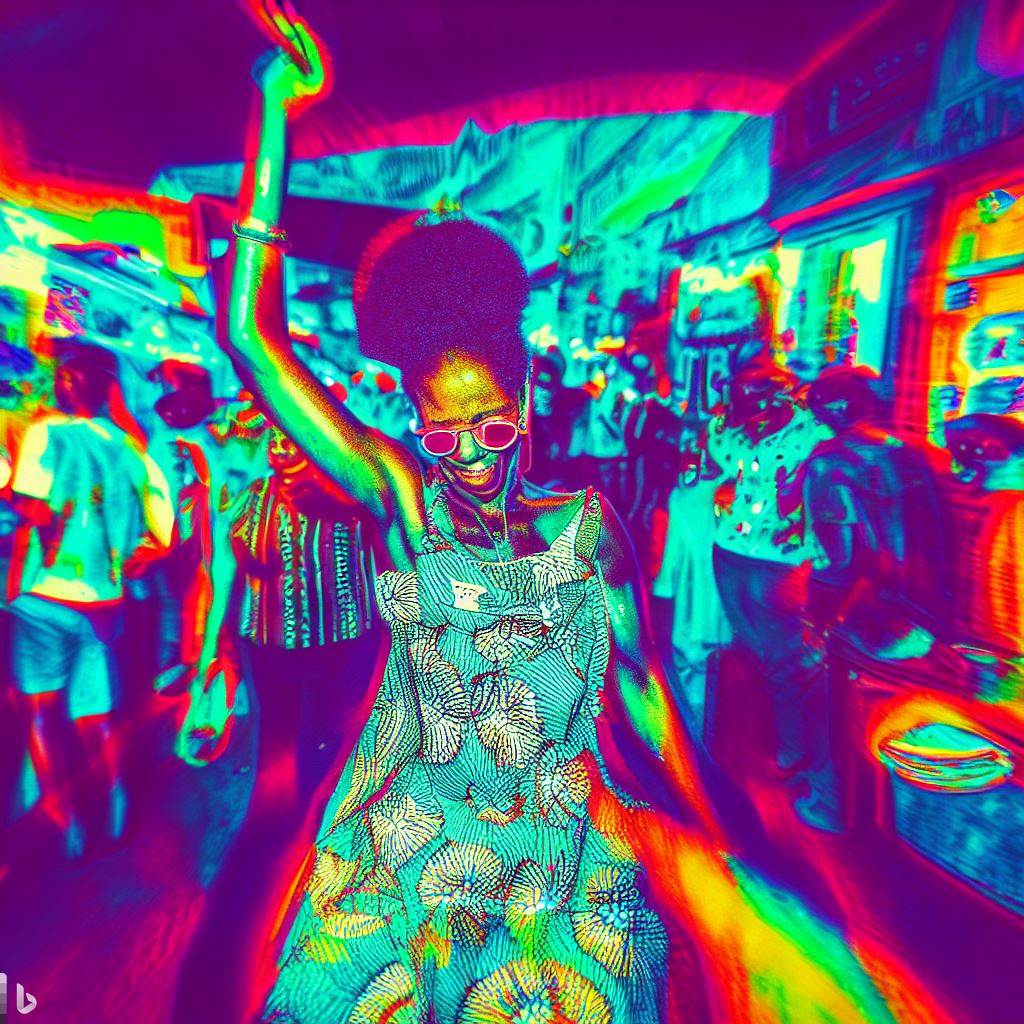 Prompt: "Beautiful African Girl dancing in the middle of a busy market, psychedelic style"
Though Ai Image generators are still in their early stages of development, they are currently being used for a variety of purposes, including:
Art: New and innovative art forms are now being easily created with Ai within seconds. For example, artists tell the AI to mimic the style of famous artists whilst making slight alterations, or they simply ask it to combine the style of two or more different artists to create a brand new signature art style.
Design: New and unique designs for products, logos, and other visual elements are being generated using AI tools. For example, experienced product designers envision designs, vividly describe them to the AI, and masterfully guide it through several iterations until a desired concept is achieved.
Education: AI-generated images are being used to create educational resources. For example, they are used to create (approximate) images of historical events or to generate (approximate) models of scientific concepts.
Entertainment: They are used to create new and exciting forms of entertainment. For example, they are used to generate several stunning, yet related images that are used to tell stories, and the timelapse of several AI images creates a spellbinding effect. They are also being used to generate concept characters and environments for video games.
As AI image generators continue to develop, they are likely to be used for even more purposes. They have the potential to revolutionise the way we create, design, and interact with images, just as cameras revolutionised the way we preserve memories.
For example,
when creating blog content, you can use AI-generated images that align perfectly with your article's topic, making it engaging and unique.
Using AI-generated images can make your social media posts stand out with captivating visuals.
For presentations, AI image generation simplifies the process by adding images for visually appealing slides.
Even writers can enhance storytelling and imagination with AI-generated images.
They can also be used to design visual elements for websites and apps, create mood boards, and even offer personalized image content based on customer preferences.
Conclusion: AI Image Generation Are Stretching Our Imaginations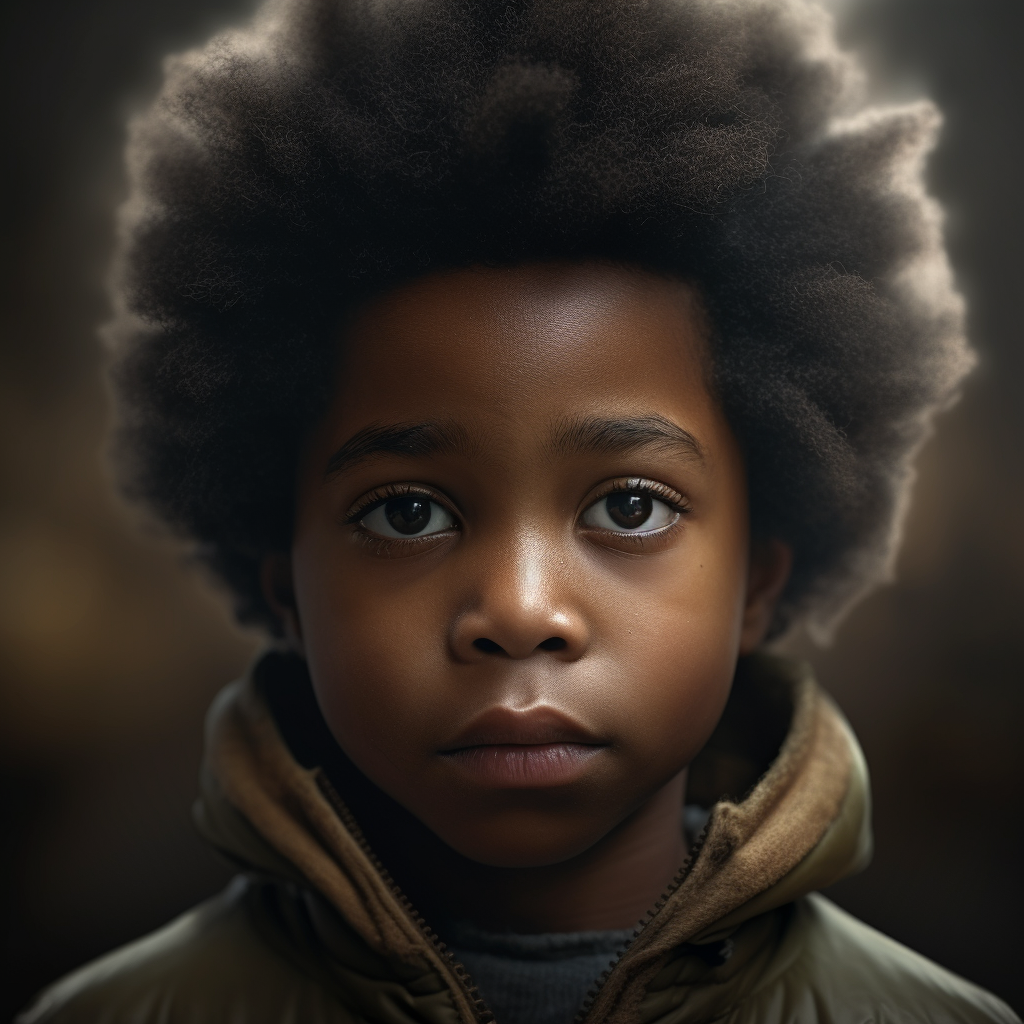 AI image generators are already a valuable tool, and they are only going to become more powerful and versatile in the future. As these technologies become more accessible, we will be able to use them to create stunning and realistic images that can help us communicate our ideas more effectively, bring our imaginations to life, and even create new art forms.
Of course, this will also come with its challenges, and we will have to evolve. Nevertheless, the future of image generation is here, it is bright, and it is an exciting time to be a part of this technological revolution.