Best Answers To  Your Questions About Trading Robots [An Easy Guide To Crypto Trading Bots]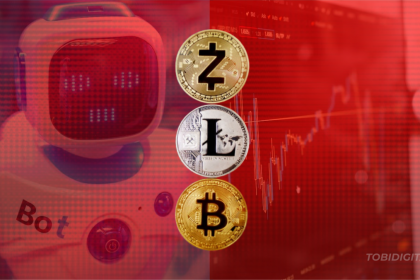 Often, when we think of robots, we picture a humanoid machine that is smarter and capable of doing most of the heavy lifting for us. However, Robots can be any type of automated device that can perform specific tasks with speed and with precision and with little or no human intervention. Sometimes they are called Bots, and they are used in different fields of work, including crypto trading.
In this guide, you will learn the basics of Crypto Trading Bots.
If you are new to Crypto, don't forget to check out this piece Simplifying Cryptocurrency: meaning, uses, and benefits
"You don't need to be a rocket scientist. Investing is not a game where the guy with the 160 IQ beats the guy with the 130 IQ."

Warren Buffett
What's a crypto trading bot?
A Crypto Trading Bot is a software program that uses technical signals to enter a trade, as it buys or sells on your behalf. It could be while you are hanging out with your folks in the Bahamas.
Crypto Bots are incredible market investigators. They are capable of analyzing and predicting potential trading risk or gain before implementing a buy/sell option. For instance, you can have your bot sell Bitcoin when the price goes up or buy when it goes down at a specific price.
The advantage of using a crypto trading Bot;
It relieves the burden of always having to monitor and analyze the market.
It mitigates human error caused by greed and fear.
You do not have to go through the emotional and psychological trouble of developing and testing a working strategy through trial and error.
The disadvantages of using a crypto Bot;
Building a trading bot requires some extremely advanced programming knowledge.
For those who cannot build their bots, a decent Bot can be expensive to buy.
It is possible to be scammed by some commercial trading bots. Hence, you probably won't be able to look at their back-end code, you get scammed as soon as you let them perform trades.
Glitches or bugs could cause you to make a mistake.
Besides, you can not fully rely on a bot, because the market is influenced by a lot of factors beyond the capacity of a robot. For example, during war or a pandemic, the world economy is plausibly volatile. Such life events can't be circumvented by the use of crypto trading bots.
And, sometimes, your greed and fear may steer you into making very risky trades that may be exceedingly rewarding.
"I will tell you how to become rich. Close the doors. Be fearful when others are greedy. Be greedy when others are fearful."

Warren Buffett
How Do A Crypto Trading Bot Work And Make Market Decisions?
Unlike humans who make life decisions based on emotions and logic, crypto bots make market decisions through four essential processes:
Data analysis,
Generate signal,
Risk management, and
Execution.
Data analysis; as the saying goes, "follow the numbers, numbers don't lie", a crypto trading bot relies on data. It identifies trades, gathers information, and analyzes tons of data about an asset.
Generates signals; once the analysis has been conducted, the bot uses the result to calculate the potential risk in the market. Based on the data, the bot determines how much to invest or trade.
Risk management; at this point, it manages risk according to a specific set of parameters or rules set by the trader. This is often done with the Stop loss & Take profit option. A stop-loss option limits your potential losses in a trade that goes against you. Whereas the take-profit option allows you to close an open order when the price reaches a profitable threshold.
Execution; this is the final part, where your trade is executed. Your orders are sent to the exchange via their API (Application Programming Interface). The bot buys or sells based on the signals generated by the pre-configured trading system.
"I believe in analysis and not forecasting."

Nicolas Darvas
It is important to note, however, that many bots offer you the ability to choose which types of data are entered into the signal generator sector to refine their results. This means you still have a level of control over the decision-making process.
Nevertheless, in purchasing a decent bot you must look out for the following features;
Features to look for when buying a crypto bot:
Does it have a Mobile app?
Stop loss & take profits options.
Price: one-time or subscription Fees.
Interface: Is it user-friendly or complex?
Which exchange platform (Binance, Coinbase, Kraken) supports its usage?
Extension Service: can it work with a trading view, and Telegram Backtesting add-on?
Crypto signals: these are notifications from your bot, that inform you about when and what coin to buy or sell
Arbitrage advantage: This is the ability to monitor and trade specific assets across different exchange platforms in one interface.
The copy-trading strategy: this feature enables you in the crypto markets to copy the trade position and strategies of other people
Demo trading account: The demo account is the playground that allows you to learn about the bot and test your trading skills with zero risk.
Portfolio rebalancing: This feature will strategically redistribute the gains to other, less robust, assets in your crypto portfolio after making a profit from another high-performing asset.
Is crypto trading bots legal?
You may have a fuss about how trading bots affect the markets and wonder if there are no rules and regulations that prevent traders from using trading bots. Well, there is none, to the best of my knowledge.
In forex or Crypto, trading bots are legal and give their users an unfair advantage.
Is crypto bots safe?
Almost every reasonable person prevents their money from being lost. So, at this juncture, you may be wondering if using a crypto bot for trading is safe.
Understand; that not all bots are created unequally. Since they were created by different anonymous creators whose skill levels and intentions are different.
Often, you'll know little about the bot and its creator, so you have no idea how it works. However, not all trading bots want to scam you of your money. Always investigate properly before investing in a trading bot.
"An investment in knowledge pays the best interest."

Benjamin Franklin
10 Reputable Crypto Trading Bots
From my research, the following Crypto Trading Bots have been widely recommended by crypto experts;
Nevertheless, this is not some investment advice, you are to do your research before buying one.
How much can a crypto trading bot make you?
Capital plays a crucial role in all kinds of businesses. Whether you are using a bot or not, starting with a $10 amount of money, means you are going to make a low percentage of profits when compared with someone who entered a trade with $200. However, just as Alexander Elder (a professor & expert stock trader) would say "The goal of a successful trader is to make the best trades. Money is secondary." In other words, just keep your head in the game, and the money will come.
My Final Thought On Crypto Trading Bot
Every aspect of life involves both winnings and losses, both beating the market and getting your arse kicked by it. Bots are incredibly helpful, but they won't always ensure you win. So, it might also be worthwhile to invest in learning more about crypto trading and technical analysis to increase your chances of winning more.