What Is Affiliate Marketing For Dummies And Beginners?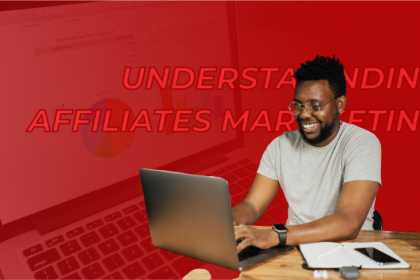 Affiliate marketing is a popular marketing model, used by both big brands (like Amazon, Jumia…), and small businesses like those within your neighbourhood.
However, affiliate marketing is also infamous for being misunderstood and sometimes abused, despite being very effective.
In this post, we will take a deep, yet simple look, at what it is, and what you need to know about affiliate marketing as a beginner.
But first, you may want to understand what the constituent words – "affiliate" and "marketing" – mean?
Let's start with "marketing".
What Is Marketing?
The word "marketing" is synonymous with the word "selling", and that is because every business must exchange something (goods or services), for money (or some other valuable).
There is nothing wrong with this (exchange), as long as what the buyer gets, is as valuable as the amount they paid. For instance, most people would gladly exchange $10/₦5 for a plate of a delicious meal, because they can't eat money. Marketing here is simply the process by which the hungry person gets to find out, and pay for the food they need.
In other words, Marketing refers to all that it takes to get a buyer to a seller so they can transact. And some of the things it takes include advertising, follow-ups, delivery of the products, etcetera.
The challenge is, that the world is full of so many options. There is hardly anything that is only one in the world, or that doesn't have a close, and sometimes preferred substitute. For example, there are countless restaurants where a famished person can get something to eat. So, how do you manage to get them to choose you?
This is the job of marketing; the reason why there are other complicated definitions of marketing. For example, Renee Blodgett defines marketing as "…an ongoing communications exchange with customers in a way that educates, informs and builds a relationship over time…" Because, let's face it, we are most likely to buy from people who we know and trust.
Asides mere trust, we are sentimentally obligated to buy from people we know; reason why marketing needs to be as personal as possible.
But finding, connecting, and convincing people to buy requires skill, tools, and time which business owners may lack. Hence, the need to outsource the job to skilled marketers called affiliates.
Who Is An Affiliate?
An affiliate, as the name suggests, is someone or an entity that is related to, connected with, or attached to something else.
In general business terms, an affiliate is a person or entity that is "officially attached" to another business, be it a subsidiary, ambassador, or just partner.
But in the case of marketing, an affiliate is someone who convinces other people to patronise a brand or business and gets a commission from each successful transaction.
Unlike a family member who tells their friend about their relations' business to show support, affiliate marketers do it mainly for the commission.
An affiliate may not necessarily be promoting a brand they like or use. An affiliate simply needs to be good in marketing, i.e. at connecting the seller to the buyers.
So, what's affiliate marketing?
What Is Affiliate Marketing?
Affiliate marketing is a marketing system in which a business outsources its marketing efforts to someone else (an affiliate) and pays them a commission based on performance.
Considering businesses have different structures and needs, coupled with the fact that marketing involves a whole lot of parts (including advertising, selling, delivering, etcetera) which all cost money, efforts and time, different businesses give their affiliates varieties of conditions for getting paid.
Some pay when the buyer sees the product, while others won't pay until the buyer gets the product, and do not return it.
To better understand this, let's quickly go through the four basic Affiliate Marketing compensation models.
4 Main Affiliate Marketing Compensation Models
Pay per Sale or Cost per Sale (PPS or CPS): This a model in which an affiliate is paid only after, and/or for every successful sale they make. This is usually a high risk for the affiliate marketer, but the commission is usually higher.
Pay per Lead or Cost per Lead (PPL or CPL): The affiliate is paid for every buyer/user they convince to sign up (most times on the business's website), even if the buyer/user does not later transact. In this model, the business takes care of the follow-up and all other parts of the sales process.
Pay per Click or Cost per Click (PPC or CPC): The affiliate is paid for every visitor they send to the business. These visitors need not sign up or make a purchas. It is the responsibility of the business to engage/or persuade the visitors to sign up or buy from them. For instance, Facebook often charge per click for every contact you get from the ad you run, which means it is up to you what you do with the visitors they send your way. Needless to say, you need to have a way of monitoring the quality of the traffic. This is often the reason most businesses do not allow their business to be advertised on websites containing violence, or adult content.
Pay per Call (PPCall): The affiliate is paid for every inbound call they generate. That is, the affiliate gets paid whenever they convince someone to call the business on the phone. An affiliate is ideally assigned a unique phone number so that all the calls they generate can easily be tracked. If you are wondering how a business can buy and register so many phone numbers for its swarm of affiliates, they make use of websites like Invoca.
As you can see, Affiliate marketing is not such an alien concept. It's all about helping a business with its marketing needs.
However, affiliates would have to work hard to earn their commission because marketing is no small task.
In an actual sense, almost every blogger, celebrity, website, and company on the internet today participates in affiliate marketing in one way or the other, because people pay them directly or indirectly to send potential customers their way.
When a Youtuber recommends a product, they usually get a cut from the purchase. This is the same when you click an ad on social media or some random website. In many cases, people get paid for your activities, even when you are just clicking on a link.
Considering marketing involves influencing behaviour with text, audio, visuals, smell, and even touch, we can say all our actions are in one way or the other influence.
This is also why you need to be cautious (because we are all potential buyers) since most of these influencers are also influenced by monetary gain. This is often the dilemma of listening to marketers.
What Kind of Products Do Affiliate Marketers Sell
Affiliate marketing can be implemented in businesses with diverse goods and services. However, the kind of good or service rendered often influences the amount of commission an affiliate can earn.
For example, when marketing physical products, commissions are usually lower because there's the standard cost of production that must be covered. So, an affiliate would only earn a percentage of the net profit from the sale. For example, if the cost of the foodstuff and gas for cooking the $10/₦5000, Marketing here is simply the process by which the hungry person gets to find out, and pay for the food they need. Say meal is $7/₦4000, an affiliate may only get a commission of $1.5/₦500 since the merchant/business owner also needs to make profit from the sale.
However, digital products (which are mostly books, courses, and software) generally have higher commission margins because there's usually little or no extra cost in producing and distributing the product over time. So, an affiliate for a $10/₦5000 digital product may be looking at up to $4/₦2000 to $7/₦3500 in commission.
It is also important to realise that the concept of affiliate marketing is not only limited to becoming an affiliate. A business that recruits affiliates are also into affiliate marketing. So also are the platforms that manage these affiliate marketing activities.
This means there are 3 main players and angles when it comes to affiliate marketing.
The Businesses which use affiliate marketing as a tool for business growth,
The Affiliate platform, connects the businesses to the affiliates and supervises/manages the activities of the businesses as well as affiliates. And
The Affiliates consider marketing (the products of the businesses) a business of its own.
Let's quickly go over these.
Affiliate Marketing For A Business
Most business owners (let's call them merchants from here on), are simply not good at sales, so it is practical if they desire to get people to help them sell their goods or services.
No matter how good a merchant is, they can always achieve more if more people are marketing their products or services.
And because most affiliate models don't require upfront payment by the merchant, it is often a welcomed idea.
All a merchant has to worry about is
If they are making enough profit to keep running the business using the affiliate marketing model
If the model is freeing up time, and
If the affiliates are not harming the public perception of the business (because you don't want hoodlums forcing people into buying from you).
But because it is not usually easy to find great marketers who are ideal and willing to market their products or services, most merchants usually set up a team to handle recruiting, monitoring, and paying of affiliates, or simply go to reputable affiliate platforms, which have thousands of great marketers waiting.
Affiliate Marketing Platforms
Affiliate marketing platforms are popular amongst marketers (who become affiliates) as well as businesses (looking to leverage the skills of affiliates) because it is where they both meet.
Marketers sign up to be affiliates, while businesses register their products with the affiliate marketing platforms.
The affiliate marketing platform is then responsible for vetting the affiliates and businesses, tracking leads, processing payments/and commissions remittances, etcetera.
Most affiliate platforms won't charge affiliates anything for signing up but may charge a small fee for each successful sale (called a commission override).
However, it is common for platforms to charge the merchant a fee for setting up their account. They can also decide to charge a monthly management fee, though this is dependent on the platform, and the level of support they offer to the merchant.
Also, note that this arrangement between the affiliate marketer and merchant organized by the affiliate marketing platform is called an affiliate marketing program. Needless to say, it is also possible for a merchant to set up an affiliate marketing program outside an affiliate marketing platform as we discussed earlier.
Affiliate Marketing As A Business
Thanks to the low barrier to entry, high demand for marketers, and fat commissions available for grasp, a lot of people take up being affiliates for other people's businesses as a business of their own.
Thanks to the internet, which gives anyone access to potentially billions of people, an affiliate marketer can leverage ad networks, and social media to reach a sizable number of people at a relatively low cost.
And, by leveraging tools like sales funnels, autoresponders, and cookies, they can almost effortlessly market and rack up a lot of commissions, quickly.
For example, an affiliate can easily make $500/₦250,000 by helping our food merchant sell 100 plates of food with a commission of just $5/₦2,500.
And, with some merchants willing to offer commissions of up to $100/₦50,000 or more, it is common to see affiliates bagging more than five figures per month.
Fun Facts: When an affiliate can generate consistent sales and supersedes all other affiliates in an affiliate marketing platform, they are called super affiliates. But, only 1% to 5% of marketers ever become super affiliates.
Final Thoughts On Affiliate Marketing For Dummies And Beginners
Affiliate marketing is something that is inevitably going to be on the rise as more and more businesses adopt internet marketing as a medium to promote their businesses.
Researching this topic also led me to understand that a lot of bad actors are defrauding people in the name of affiliate marketing. And this usually happens in two ways.
A new affiliate platform shows up promising to pay very high commissions on sales. This attracts marketers, who then go on to spend a lot of money marketing the products, only to NOT get any commission after the successful sales.
A new affiliate platform shows up but adopts an MLM structure, where marketers make money from inviting other marketers to join the network, without any tangible thing being marketed on the platform; except, of course, the promise of earning commissions from inviting more people.
It is understandable new marketers will often scout for new platforms with less experienced marketers (which means less competition), and better commission margins, but it comes with risks.
To avoid falling victim, it is advisable to only signup with reputable platforms, and also avoid platforms that ask for a signup fee.
This is not to say there aren't genuine new affiliate platforms, or that all platforms that ask for a fee for signing up are scams, but that there are a lot of other safer options for you to try out, especially if you're new to marketing and don't have a lot of funds to gamble with.
I know you (as a marketer or merchant), must be waiting for a list of some reputable affiliate platforms to sign up with, but I'm afraid that will have to be on a different post.
For now, you can browse through the frequently asked questions sections, or leave a comment if you couldn't find an answer to any of your pressing questions.
10 FAQs On What Is Affiliate Marketing For Dummies And Beginners
Can beginners do affiliate marketing? Yes. All you need to do is sign up for an affiliate program, grab your affiliate link, and post it on any medium you have access to. Don't forget to add appropriate descriptions and a call to action to encourage people to click through.
How much money can you make as an affiliate marketer? Affiliate marketing is "performance-based" marketing, which means you earn based on how many results you can provide. If you can get to the super affiliate status, it means you can be making more than 5 figures monthly.
Can you start affiliate marketing with no money? Even though most affiliate programs won't ask affiliates to pay any signup fee, you will eventually need to spend money on the "marketing", which involves graphics, ads, sales funnels, autoresponders, hosting, and more. This is doubly so for the merchants.
How much do beginner affiliate marketers make? A beginner may not make any money at first, especially if they are not good at marketing and don't have a large and quality audience waiting. However, those with a basic knowledge of marketing and a decent audience can start seeing results early.
Why do affiliate marketers fail? There are many reasons an affiliate marketer can fail, ranging from not understanding the product and target audience to not following up on their leads. In reality, an affiliate hasn't failed if they are still trying. And like most things, it gets easier with time.
Do you need a website for affiliate marketing? Having a website is an added advantage, but you can leverage social media platforms and tubes alone for your business. What is most important is that you are getting your affiliate links in front of a good number of people who are willing to take action.
Can I learn affiliate marketing myself? A huge part of learning affiliate marketing is simply understanding the fundamentals of marketing. This means you need to know how to convey the benefits of a product or service to people. And, you can learn this on your own by reading books, taking courses, and practising. Please note that if you do not have any experience in marketing, you may not succeed in affiliate marketing, no matter how reputable the platform is.
How many affiliate programs should I join? It is advisable to start with one and diversify (if you wish) as you gain more experience and funds for marketing.
Is affiliate marketing a pyramid scheme? No. however, there are MLM and pyramid schemes that disguise themselves as affiliate programs.
Is affiliate marketing still worth it in 2022? Yes. The industry is estimated to be worth over $12 billion in 2022. Considering it was worth $5.4 billion in 2017, we can say it is becoming increasingly profitable.