14 Best Tools for running a successful online business in Nigeria in 2023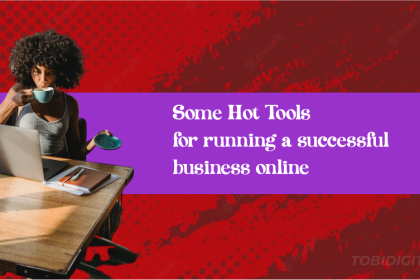 Do you want to start an online business in Nigeria? Or do you already have a business online and want to boost sales?
Running an online business successfully in Nigeria comes with its challenges, whether as a solopreneur or as a team (working with you). But then, you can simplify business processes, save time and cost and boost productivity with the right tools. This article covers the core tools you need to run a successful online business in Nigeria, plus specific recommendations.
Design and branding tools for online business in Nigeria
Every business needs an identity. Branding and design help businesses establish memorable identities across all platforms, assets, and campaigns.
Research shows that businesses with a professional design that presents the brand consistently across all platforms can increase revenue by up to 23%. Our recommended tools for branding and design include
Canva
Canva is an all-in-one design tool that helps small business owners to create stunning/professional designs. In terms of flexibility, it's probably the most accessible design tool for business owners without design knowledge. They have a rich library of customizable templates for social media designs, flyers, logos, presentations, and short videos. That's not all. You can also find assets from favourite Websites like Pexels, integrate with docs, and schedule your social media content. The free version of this tool has excellent functionalities, so you can avoid incurring high costs for your business.
Design stunning Mock-ups with Renderforest
If you run an e-commerce business in the fashion niche, Renderforest is an excellent all-in-one branding tool you need. Unlike Canva, Renderforest has an AI logo creation feature that allows you to create a brand logo using a text description. You type in niche-specific keywords, and the AI logo creator handles the rest. You can create intro videos for marketing campaigns and mock-ups for brand assets like mugs, t-shirts, packaging bags, and others.
Other tools include
Digital marketing tools for online business
As an online business, you are competing with many brands, of which a good number of them have better budgets and strong teams. Digital marketing helps to level the playing field. However, with the right tools, you will get the best results from your digital marketing efforts. Digital marketing covers all aspects of your marketing online. The goal is to build awareness, engage customers and drive sales using digital assets like content creation, funnel creation, content marketing, and advertising.
Some recommend easy tools to start with include.
Wix Website builder
A website is the life of a successful online business. Although most people might disagree—citing social media platforms as a better alternative. However, you must recognise the importance of a functional website. Unlike social media, websites give you complete control over all areas, and you own everything. Wix is a simple tool for creating a single-page website for your business. The drag-and-drop feature allows you to design process websites without expertise. You can have your website up and running in less than three hours, as they provide hosting and domain services.
Other website design tool includes
Create a Professional Business Profile on Google
You must be visible to get sales and remain relevant as an online business, Google My Business (GMB) is a business listing platform that helps small businesses set up shops on Google. Setting up basics on GMB, you can optimize your business page to rank when people search for your business. GMB profile allows you to upload Business details, collect reviews and establish business credibility online. It's a great way to maintain good customer relationships and authority.
Other digital marketing tools include
Social Media Listening and Management Tools for Online Business
Social media marketing is a crucial strategy for business growth and success today. Research shows that 75% of marketers, including social media marketing to their marketing strategy, have increased the traffic to their business. Some recommended social media management tools include
Manage Multiple Social Media Accounts with Buffer
Buffer is an internet-based social media management tool for small business owners who want to get the best out of their marketing efforts. It features content management, analytics, and social scheduling module. Asides have been flexible tools for small businesses, it is also relatively affordable, and the free plan has cool features available for use. You can easily schedule posts for Twitter, Instagram, Pinterest, Facebook, and other major social media platforms.
Other social media management tools include
Accounting and Invoicing tools for online business
Do you know that 82% of Businesses fail due to poor cash flow management? As an online business in Nigeria, you need the tools to help you manage your income, track expenses, and eliminate human bookkeeping errors. Our recommended devices to run an online business successfully include.
Create Professional Invoice with Zoho Invoice
Zoho invoice takes away the burden of managing accounts manually. This tool might be handy if you aren't a maths nerd. Easily create customer invoices, send reminders, and track expenses from one dashboard. Ultimately, you can save the cost of printing physical receipts and run your business effectively.
Other accounting and invoice tools include
Receive Payments with Paystack
Unlike physical businesses, an online business needs a digital gateway to accept payment from its website. Paystack makes accepting payments online easy. It provides a secure and trusted gateway for Business owners to receive payment without the risk of scam alerts or other fraudulent activities. You can integrate the Paystack API into your business Website, track all expenses from a dashboard and manage revenue. It also supports accepting payments from internationally-issued cards internationally-issued cards.
Other payment solutions for online business include
Create a Virtual USD, GBP, or EUR Account with Geegpay
Running an online business in Nigeria exposes you to borderless trade options. But companies in Nigeria and Africa need help with receiving payments from international clients. Geegpay solves this problem, so you can efficiently serve clients in different countries and accept payment. You can also create a Virtual USD, GBP, or EUR Account and Virtual Dollar card within 24 hours.
Project Management & Communication Tools
If you run an online business, you will agree that getting distracted is easy, leading to poor productivity. Research has shown that companies that use project management tools can save up to 12% on wasted resources. Our recommended project management tools for an online business include
Trello Project Management Tool
Trello is a task management tool to organize your daily business activities using a list or board features. This digital tool could boost your productivity and help you manage your business workflow on the go—from Mobile, desktop, and website. It's suitable for solopreneur online businesses or small teams.
Other project management and communication tools include
Data collection & Customer Feedback Tools
Data is the new gold. Online businesses need real-time data and feedback to adjust business offerings and get ahead of trends. These tools will help you get customer feedback and well-structured data to inform decision-making.
Collect Customer Feedback with Survey monkey
Survey monkey is an all-in-one data collection and feedback tool for small businesses. You can create surveys, collect customer feedback, and develop quizzes for engagement and pools to know how effective your business process is. It's a handy and accessible tool without the technical stress that comes with Power Bi and other data tools.
Other data collection and feedback tools
Documentation tools for online businesses in Nigeria
Online businesses must prepare presentations, documents, contracts, and other necessary documents to keep running. Since online business transactions take place on the internet, you require tools that will help you create professional documents quickly and securely and can be shared easily. Our recommended documentation tool for an online business includes.
Create professional business documents with Google Docs
Do you have to create working documents like contracts, strategies, business goals, or other vital information in safe cloud storage? Google Docs are the best answer for you. It is an online document creation tool that offers text editing, grammar checking, and real-time work saving. Track all documents and access them from any device, anywhere, and anytime.
Other documentation tools
Prospecting and sales tools for running a successful online business
Online businesses have more demanding competition, and you must actively search for prospects, nurture them and convert them to buyers. Since your business is online, you must invest in tools that get you in front of prospects or get information about opportunities you can use for prospecting.
Some tools you can use include
Get professional emails with Hunter.io
Hunter.io, formerly known as Email Hunter, is an email finder tool you can use to find and verify professional email addresses. It is an excellent tool for freelancers and online businesses—service based—that deals with high-value prospects. Use Hunter.io to get the email, add it to your email marketing provider and send cold emails for prospecting.
Sell to millions of Nigerians with Konga
Konga is a local marketplace for Nigerians to trade goods. The eCommerce site is popular amongst Nigerians and offers Business owners a flexible gateway to reach customers fast. To become a seller, you must sign up for a SellerHQ Account and provide the required documents online. A support officer will be assigned to your account to create a SelllerHQ Account and assist you in uploading your goods and services.
Other sales and prospecting tools include
Jumia
Jiji marketplace
Instagram shops
You may want to learn more about selling on Jumia or Konga
Conclusion
Running an online business in Nigeria is tasking, you have to deal with poor networks, government policies, and scams. All of these are factors beyond your control. However, having the right tools for elements within your power would be best to get the best results.
The above tools will help you improve productivity, efficiency, and customer service. All of these are important to running a successful online business in Nigeria.