GA4 Migration: A Step-by-step Guide for Businesses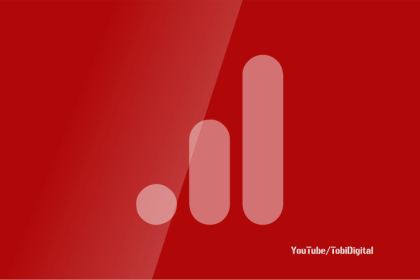 If you own a business, you already know data is important because it can help you create better products and services, improve your marketing campaigns, and make your website more user-friendly which in turn leads to more conversions. That is why Google created Google Analytics.
Google Analytics is a powerful tool that helps businesses collect and analyse data such as where visitors are coming from, the pages they visit, and the actions they take on their website or app. However, as usual, Google Analytics has another upgrade. It is being upgraded from Google Universal Analytics (UA) to Google Analytics 4 (GA4).
What Is GA4?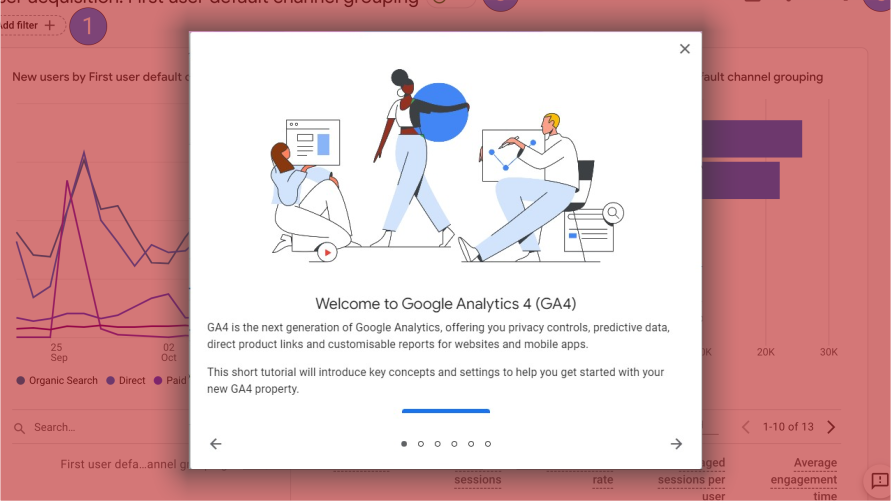 As the name implies, GA4 is the next and fourth generation of Google Analytics following Universal Analytics. It was released in 2020 and is designed to be more privacy-friendly, flexible, and powerful than previous versions of Google Analytics. It offers privacy controls, predictive data, direct product links, and customizable reports for websites and mobile apps.
GA4 uses an event-based data model, which means that it tracks users' activity on your website or app based on events. GA4 replaces views with filters, comparisons, and permissions. Events measure user interactions on your website or app, such as clicking a button, loading a page, or completing a purchase. You can mark your most important events as conversions in GA4 and export them to Google Ads for bidding.
GA4 will completely replace Universal Analytics by the 1st of July, 2023, since Universal Analytics will also stop collecting data by that same date. This means businesses need to transfer/migrate their data from Universal Analytics and start using the GA4 if they still want to keep leveraging data for their business.
What Happens If You Don't Migrate To GA4?
If you don't migrate to GA4, you will no longer be able to collect and analyse data with your Universal Analytics data after July 1, 2023. This means that you will no longer be able to track your website or app traffic, measure your conversions, or create reports using Google Universal Analytics. Your Universal Analytic data will continue to be available for 6 months after July 1, 2023. After that, it will be deleted.
Also, If you don't migrate to GA4, it will be partially done for you automatically. However, the automatic migration will not be a complete copy of your Universal Analytics data and configurations.
This means
The data may not be as complete or accurate: The automatic migration process may not be able to capture all of your Universal Analytics data. As a result, the data in your new GA4 property may not be as accurate or complete as if you had migrated manually.
The data can not be altered: Once your data has been automatically migrated to GA4, you will also not be able to edit it. And,
Not all configurations will be migrated: Some configurations in Universal Analytics do not have a direct counterpart in GA4. As a result, the configurations in your new GA4 property may not be a complete copy of all your Universal Analytics settings.
All these are the reasons you need to migrate to the GA4 by yourself.
Why Is Ga4 Migration Important And What Are The Benefits?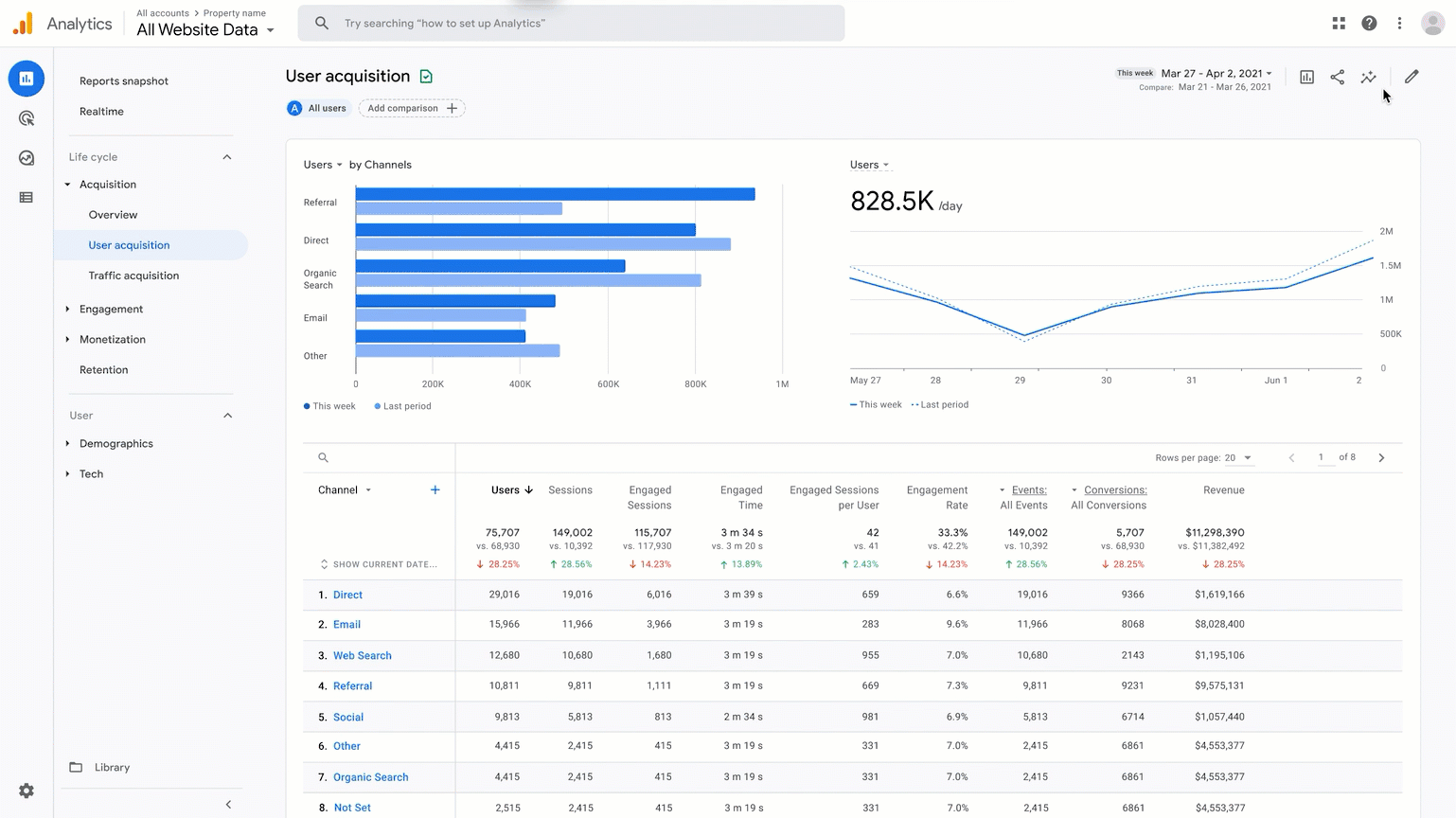 Migrating to GA4 is important because it allows you to keep using Google Analytics. Besides, it offers a more holistic view of user behaviour across multiple devices and platforms, including websites, apps, and offline interactions.
Some important changes/improvements the GA4 brings include:
Privacy-friendly data collection: GA4 uses a new data collection method that is more privacy-friendly than Universal Analytics. This means that you can collect more data without violating the privacy of your users.
Event-based data model: GA4 uses an event-based data model, which means that it tracks users' activity on your website or app based on events. This makes it easier to track complex user journeys and to understand how users interact with your website or app.
Machine learning: GA4 uses machine learning to provide predictive data that can help you make better decisions about your website or app. For example, GA4 can predict which users are most likely to convert, or which marketing campaigns are driving the most traffic.
Cross-platform tracking: GA4 can track users across different devices and platforms, which gives you a more complete view of your users' behaviour.
Customizable reports: GA4 offers a wide range of customizable reports that you can use to track your website or app traffic and measure your conversions.
Enhanced measurement: GA4 includes several new features that make it easier to measure the effectiveness of your marketing campaigns. For example, GA4 can track the impact of your campaigns on user engagement, conversion rates, and customer lifetime value.
Better insights: GA4 provides more insights into your users' behaviour. For example, you can see how users interact with your website or app over time, and you can identify the factors that influence their decisions.
Improved integrations: GA4 integrates with other Google products, such as Google Ads and Google Marketing Platform. This makes it easier to use your data to improve your marketing campaigns and your website or app.
[UA→GA4] Migration Guide For Beginners: How To Migrate From Google Universal Analytics To GA4:
Migrating from Universal Analytics to GA4 is free and easy. To migrate to GA4, you need to have an existing Universal Analytics property and access to its associated Google Analytics account (either as Editor or Administrator).
You are advised to use your Desktop web browser for this process rather than the Analytics Mobile App. You can also carry out the migration regardless of whether your website pages have a Google Analytics tag (gtag.js or analytics.js), a Google Ads tag (gtag.js), or a Google Tag Manager container.
Note: A tag is a piece of code that is added to your website or app to track data such as page views, clicks, conversions, and user behaviour.
Once you're ready to migrate, you must create a GA4 property: To create a new GA4 property, go to your Google Analytics account and click GA4 Setup Assistant. It's the first option in the Property column. If you don't see the option, you likely don't have permission to access the tool.
Once you click it, you will have two options:
Create property: This option will create a connected site tag between your Universal Analytics and GA4 properties.
Create and continue: This option will take you to the Set up a Google tag page, where you can install the Google tag manually or select an option that best describes your situation (like create a new Google tag, install using a CMS, or add the tag manually).
Once you have created your new GA4 property, you will see "You have successfully connected your properties" at the top of the page. Make a note of your GA4 property's name so you can find it later.
On the same page, you will see the button "Go to your GA4 Property". Click on it to open Setup Assistant in your new GA4 property. Setup Assistant in Google Analytics 4 Properties will guide you through the recommended features and settings to help you finish setting up your GA4 property.
You can do the migration in less than 10 mins, but it can take up to 30 minutes for data to appear in your new GA4 property.
To verify that data is being collected, browse your website, then select Realtime from the report navigation. You should see activity in the Real-Time Report section. [Reports > Real Time]
Keep in mind that if you have multiple properties in your Google Analytics account, you will have to repeat the process for each of them.
It's also important to refer to Google's official documentation and resources for detailed instructions and best practices tailored to your specific migration needs.
FAQs and PAA:
GA4 data retention:
GA4 data is retained for 14 months by default. However, you have the option to adjust the data retention period based on your specific needs and compliance requirements.
Differences between GA4 and Universal Analytics data models:
GA4 utilises an event-based data model, which differs from the session-based data model used in Universal Analytics. The event-based model allows more flexibility in tracking user interactions and provides a more granular understanding of user behaviour.
Will I lose historical data with GA4?
No, you will not lose historical data when migrating to GA4. During the migration process, you can transfer your historical data from Universal Analytics to GA4. This allows you to retain access to your valuable historical data for analysis and comparison purposes.
Does GA4 affect SEO?
Google Analytics 4 (GA4) does not directly affect SEO. SEO is the practice of optimising your website or app for search engines so that it ranks higher in search results. GA4 is an analytics platform that helps you track and measure your website or app traffic.
However, GA4 can help you track the effectiveness of your SEO campaigns by tracking things like click-through rates, conversion rates, and keyword rankings. Additionally, GA4 can help you identify areas of your website or app that need improvement, which could lead to improved SEO rankings.
Why is GA4 so complicated?
GA4 may appear complex due to its shift in measurement model, expanded tracking capabilities, and updated interface. The event-based tracking model and increased emphasis on user-centric data require a reevaluation of existing tracking implementations and reporting practices. However, Google provides documentation, guides, and resources to help users understand and navigate GA4 effectively. Familiarising yourself with the platform and seeking assistance when needed can simplify the migration process and ongoing usage of GA4.
Do you have more questions? Leave them in the comments section and we will be happy to answer them.