3 Best PayPal Alternatives in Nigeria for Online Businesses to Receive International Payments
My first encounter with PayPal was in a partner stack affiliate marketing training. It was the recommended method of payment withdrawal, but to my greatest surprise, Nigerians couldn't create a PayPal account that receives international payments.
Although I found a way around it, I had to battle with how to convert it to naira as I couldn't credit my normal Nigerian bank card. Months later, the account was blocked, and I was lucky to have transferred the money out before it happened. If you are a business owner in Nigeria or a freelancer, you can relate to my story.
My experience led me to search for other PayPal alternatives to receive international payments, some of which I will show you in this article.
Unlike PayPal, these alternatives allow you to create an account with simple documents like NIN and have features like invoice creation, in-app currency conversion, and multi-currency accounts.
Let's get started
3 PayPal Alternatives for Nigerian Business Owners
Here's a list of PayPal alternatives in Nigeria for receiving payments in USD, GBP, and EUR.
Geegpay Africa
Geegpay Africa is a multi-currency digital payment start-up owned by Raenest with a review rating of 4.1 on Trustpilot.
The digital payments solution allows you to create a USD, GBP, or EUR virtual account, share it with your customer, and they can credit it via bank apps or a local bank.
The processing time between each transaction is often within 24 – 72 hours. When you receive your payments, whether in USD, GBP, or EUR, you can convert them to naira within the app and send them to your Nigerian bank account.
Currently, Geegpay Africa's exchange rate for dollar to naira is ₦755 to $1. GBP stands at £1 = ₦980 and €1 = ₦840.
Besides receiving international payments, you can also create a Nigerian account in Geegpay Africa app, allowing you to fund your account with naira and convert it to any currency.
Other benefits include access to creating invoices, a USD debit card and getting a proof of account document.
Geegpay charges 0.9% when you receive funds with $1.5 as the minimum fee.
How do I Create a Geegpay Account in Nigeria?
Visit the Geegpay website or download the app and click the "Open account icon."
You will be redirected to a page where you enter your Full Name, Email Address, Password, Confirm Password, and Referral Code (Optional).
Verify your email by entering the 6-digit code sent to you.
You can then log in to your Geegpay account to complete verification.
You will need a government-issued ID card and proof of address (mostly a utility bill) to complete the verification.
Grey App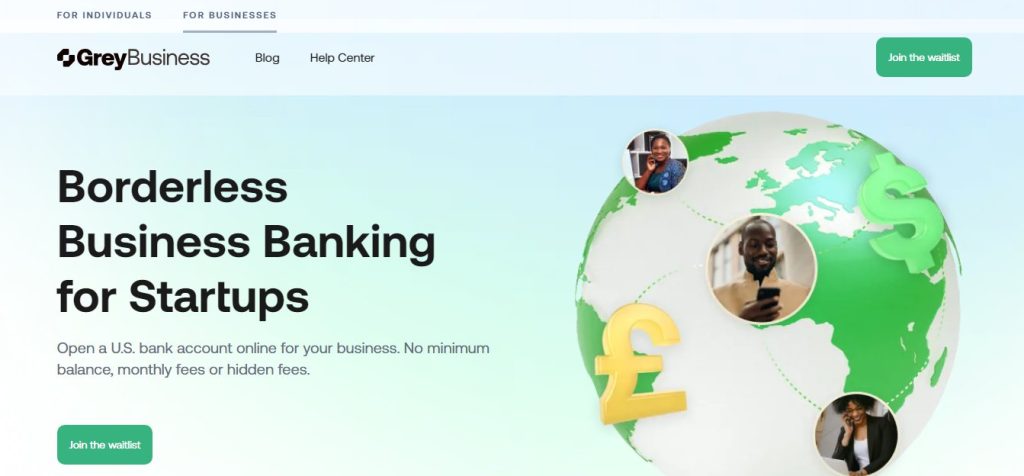 Grey App is an all-in-one fintech solution that allows digital businesses to send and receive foreign payments instantly.
Grey also supports multi-currency accounts, invoice creation, and in-app conversation. However, unlike Geegpay, you have more account options, including local African currency like Kenyan Shillings.
Currently, Grey .co exchange rate dollar to naira is $1 = 761, while EUR and GBP are ₦832 and ₦983, respectively. If your clients pay with USD, you will need an alternative virtual account app as Grey doesn't support USD account creation, but it may be available in the future.
Transaction fees are often 1% of the amount, but some payment options incur extra. For example, SWIFT/WIRE transfers incur a 1% + $50 fee.
How do I open a Grey Account?
Visit the website or app and click on Create account
Enter your details
Verify email and account by submitting relevant documents
Proceed to create your virtual accounts.
Payday Noebank
Payday is a global Neobank for remote workers and digital businesses. They offer multi-currency accounts for GBP, USD, EUR, and 20 other currencies, which is a larger collection than the other two options on our list.
The platform also offers a Payday tag, a short text string you can use to request payment from another user. You also have access to a global virtual MasterCard for transactions across different platforms.
Unlike PayPal accounts, you can create a new Payday account with your BVN and a selfie, with verification taking less than 48–72 hours.
Currently, Payday has a mobile app for download, meaning you can access it on the go without the stress of loading a browser page.
The Payday dollar to the naira exchange rate is $1- ₦752, while GBP and USD are ₦945 & ₦820, respectively.
Furthermore, withdrawal to your local Nigerian bank attracts a ₦35 fee. While receiving money from international clients is free, sending money from your dollar account attracts a 0.5% fee capped at $25. Currency conversion also attracts a 0.5% fee capped at $5.
How to Create a Payday Account?
Download the Payday app
Launch the app and enter your details – name, Password, and email
Verify your email address with 6 -digit code sent to you
Create your international accounts
Note: The international Payday accounts creation option is currently being upgraded, so you might be unable to create a new account till the upgrade is complete.
8 Things To Consider When Choosing A PayPal Alternative in Nigeria
Before choosing a PayPal alternative in Nigeria, you should consider the following things
The Account Creation Process: It should be seamless and clear.
Verification Documents Required: Most PayPal alternatives require BVN, NIN, and a driver's license. However, you might have to provide extra documents like utility bills.
Transaction Fees: One of the reasons most businesses don't use PayPal is the high transaction fees. Giving away almost 10% of your income to settle transaction fees would be self-sabotaging. Anything within 0.5% to 3% is a fair bargain.
Transaction Processing Time: How long does it take to receive payment in your international account and your local bank? Normally, it should take 30 minutes and, in rare cases, up to 24 hours.
Security: Do they offer 2FA security protocols? Do you have access to restricting unauthorized transactions with a special pin?
Mobile Solutions: Do they have an app? Is the platform accessible via a mobile browser?
FX Conversion Rates: Is the conversion rate following market trends or lower? Are you paying a fee to convert within the app?
USD Receiving Options: Does the virtual USD account accept ACH and Wire transfers? Is it affiliated with a reputable local bank in the US?
Next Steps
The business scene in Nigeria has evolved thanks to digital technologies, and we can now offer our services to international customers.
These PayPal alternatives help you to navigate the issues of accepting payments and also provide a way to convert them into naira without going to a local bank.
Although there are other options like Payooner, these picks offer a competitive advantage to Nigerians, but you should always verify your account before sending it out to a client.
You should check out this article on 14 e-commerce tools for businesses in Nigeria to learn about other digital solutions you can use to power cross-border service delivery.